Newmonktown passage grave
Site S in the Boyne Valley megalithic complex is a large mound, 27 meters in diameter, to the north of the main group of sites. The River Mattock, a triburary of the River Boyne is 200 meters east of the mound. The monument itself has not been excavated in modern times but would seem to be an outlier of the Boyne Valley complex; however, fieldwork by David Sweetman in the 1970's surveyed the huge ring ditch 150 meters to the west of the mound..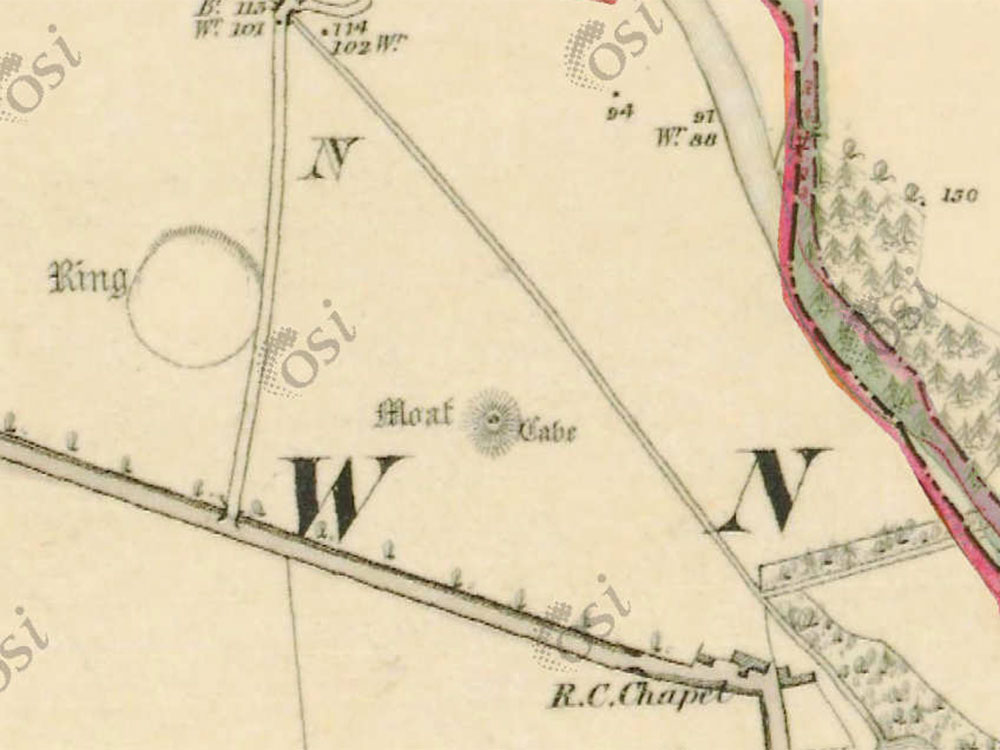 There is a report of some kerbstones surrounding the base and of a cave within the mound, which would surely indicate that this is another passage grave. Another clue is the abundance of chunks of white quartz to be seen scattered around the mound. The monument is easy to access, located just north of the football pitch to the west of Monknewtown church.
Sweetman's research and excavations discovered lots of activity from the neolithic and bronze ages. The monument is a huge ring-ditch, a ceremonial enclosure surrounded by a bank 11 meters wide and 1.5 meters high. Eleven pit-burials were found within the north-western portion of the enclosure, including cremations within a Carrowkeel Ware pot. An oval hutsite, 5 by 7 meters, also contained neolithic pottery. A small ditch-barrow, seven meters in diameter was found north east of the hut, with cremated bone and a shallow pot placed in the bottom of the stone lined ditch indicates continued use into the Bronze age.