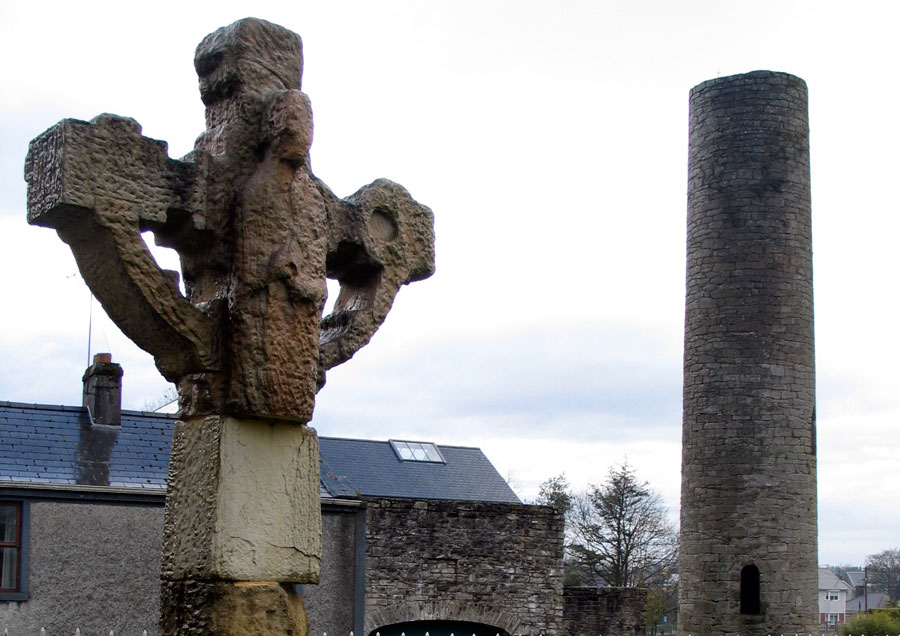 The sandstone high cross at St Cronan's monastery in Roscrea, County Tipperary. Beyond is an almost complete round tower with an unusual ship engraving carved inside.

St Cronan's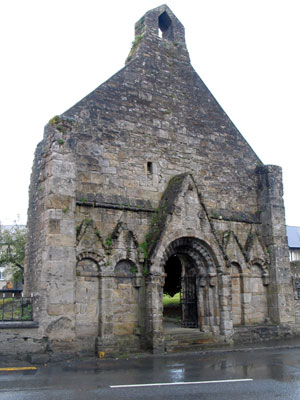 The monastery at Roscrea was founded by St Cronan around ....... on the ancient highway, the Slighe Dala that connects Tara to Cashel.Illuminated capital from page 16v of the Book of Kells, from Bernard Meehan's The Book of Kells. The Roscrea brooch

A Brief History People have lived in the area for thousands of years. Axe heads have been found on Carrick Hill, alongside Roscrea, which date from 3,000 B.C. This place was important to the Celts, one of the many invaders of Ireland. It was on the 'Sli Dhala', one of their 5 major roads across Ireland. An 'aonach' (ay-nock) or fair was held here. Crea in the name Roscrea is the name of the wife of Dala, an ancient Irish 'Taoiseach' (tee-shock) or chief. In Christian times St. Cronan founded a small monastery near Corville, close to the present-day school. Later on he moved a mile west, to the site of the present monastic ruins in the middle of the town. The Vikings raided the town, 942 A.D., during fair time but were put to flight. The Normans came later and built a castle here in 1213. The Butlers were the Norman family involved here. Later on Damer House was built inside the castle walls. The house consists of a gate tower, curtain walls and two corner towers dating from the 13th century. Today Damer house is used as a centre for exhibitions and is open to the public.

The Book of Dimma

The round tower

Gable

The high cross

The other three crosses remain in the churchyard, though only the Cross of Patrick and Columba (right, above) is complete. Another large cross is broken, and only the shaft remains (possibly due to Viking visits?). The third huge cross is very interesting, as it is undecorated and unfinished, but quite massive. Celtic chickens - a cock and his hens from page 67r from Bernard Meehan's The Book of Kells.