Woodblock print (plywood) of Newgrange, 1993.

Me and my mythical totem pole at Moytura 2000.

All kinds of art and crafts

Over the years since leaving collage in 1992 I have tried my hand at various different things. This page is designed to be a kind of portfolio or virtual gallery.

Under the headings below you can find a selection of about 30 woodblock prints, which I used to print onto t-shirts and sell as a buisness. I still produce them on paper.

I have a large collection of paintings and rubbings from various stone age and early Christian sites. When I get time, I colour them with ink. They tend to be quite large, being based on rubbings. Some of the stones fron the Boyne Valley are nearly 4 meters long.

Medicine Wheels - I would have to confess - are some of the most fun I have ever had in the art world. During a mad period after leaving college, myself and Padraig Conway from Galway began to make our own stone circles and megalithic designs.

I have an ongoing love affair with woodcarving, and have some pictures of my as yet unfinished totem pole here. It is based on the Battle of Moytura, the central story of Irish mythology.

The Milwaukee adventure shows some work myself and Padraig did at the Irish festival in 1998.

The Newgrange table is a project created by Mick O'Brien. He took a rubbing of K67 at Newgrange and made a life sized replica of it in wood, with inlaid designs. A very beautiful piece of work.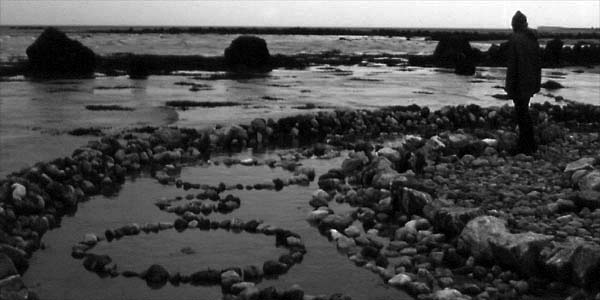 1993 - large medicine wheel constructed on the Claddagh beach in Galway to mark the autumn equinox.