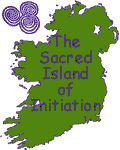 Cairns X1, X2, X3 and Y
Little remains of these three Patrickstown monuments but a few stumps of stone from X1 and X2; X3 has vanished from sight. One decorated slab has survived near the centre of Cairn X1, and has been dubbed the Loughcrew calendar stone. Du Noyer's rendering of the design is shown below.
The diameter of this monument was probably about 12 meters. A boulder lying outside the kerb may indicate that the passage as oriented west towards Cairn T.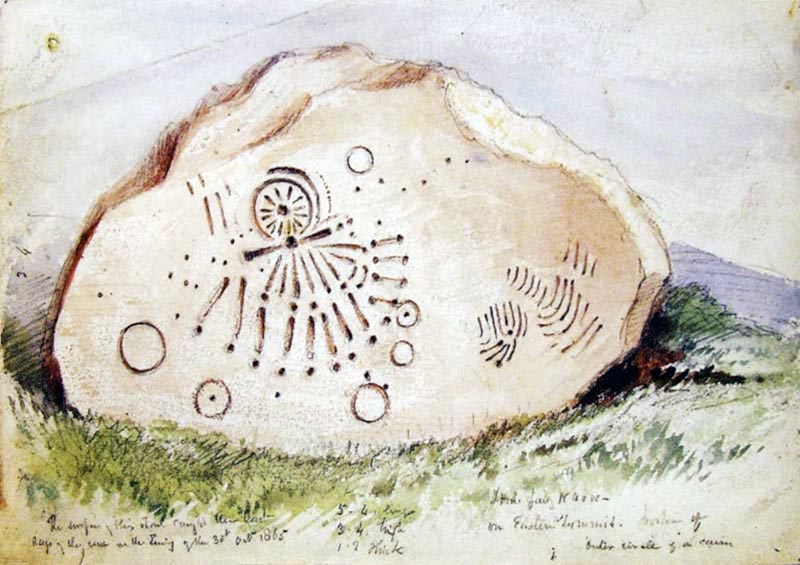 The boulders of X2 are immediately south of X1. The diameter of this cairn was approx. 11 meters. Herity says that Cairn X3, much ruined, stood 12 m south-west of X1. Some of the monuments boulders are probably incorperated into the nearby fieldwall.
Rotherham examined the monuments and found typical passage mound items: fragments of bone and pottery, pendants, beads and deer antler.

View from the location of the X Cairns back west to Sliabh na Caillí and Cairn T.
Cairn Y was probably the main mound of the destroyed Patrickstown group of monuments. By Conwell's time it was already much ravaged. It stood on the summit of Patrickstown, 270 m above sea level. Conwell reckoned it to have been about 30 m in diameter. I looked for this monument once, but the terrain is pretty rough in there, and in places the trees are quite thick. However, I think I found a low mound with several large pine trees growing there. Not much remains to be seen. In the local folklore Cairn Y was the grave of Garavogue, the hag of Loughcrew.
Recent research has identified Cairn Z as a Norman motte, but since the Normans liked to use existing mounds for their mottes, this is quite possibly a neolithic site.