Fr. Michael O'Flanagan
Father Michael O'Flanagan was a Roman Catholic priest, Irish language scholar, inventor and historian. He was a popular, socialist, Irish republican, "a vice-president of the Irish Agricultural Organisation Society, he was a proponent of land redistribution." He was Gaelic League envoy to the United States from 1910 to 1912, and he supported the striking dockers in Sligo in 1913.
O'Flanagan was friends with many of the leaders of the 1916 Rising and was vocal in his admiration for the sacrifice made by the men of Easter Week. O'Flanagan was active in reorganising the Sinn Féin party after the Rising. He was the main driving force behind the Election of the Snows in North Roscommon in February 1917, when Count Plunkett won a by-election as an independent candidate.
At the Sinn Féin Convention in October 1917, Éamon de Valera was elected President. Along with Arthur Griffith, O'Flanagan was elected joint Vice-President, a position he held from 1917 to 1923 and again from 1930 to 1931. In 1918 he campaigned for the imprisoned Arthur Griffith in East Cavan, and was instrumental in securing the seat. For this O'Flanagan was suspended by the Bishop; he went on to work full-time for Sinn Féin and was the main platform speaker and campaigner during the 1918 election.
While O'Flanagan was Acting President of Sinn Féin in 1920 he corresponded publicly with Lloyd George about peace moves to the upset of his colleagues. He went on to hold meetings with Lloyd George and Edward Carson in January 1921, and reported British terms to Éamon de Valera on his return. He was President of Sinn Féin from 1933 to 1935.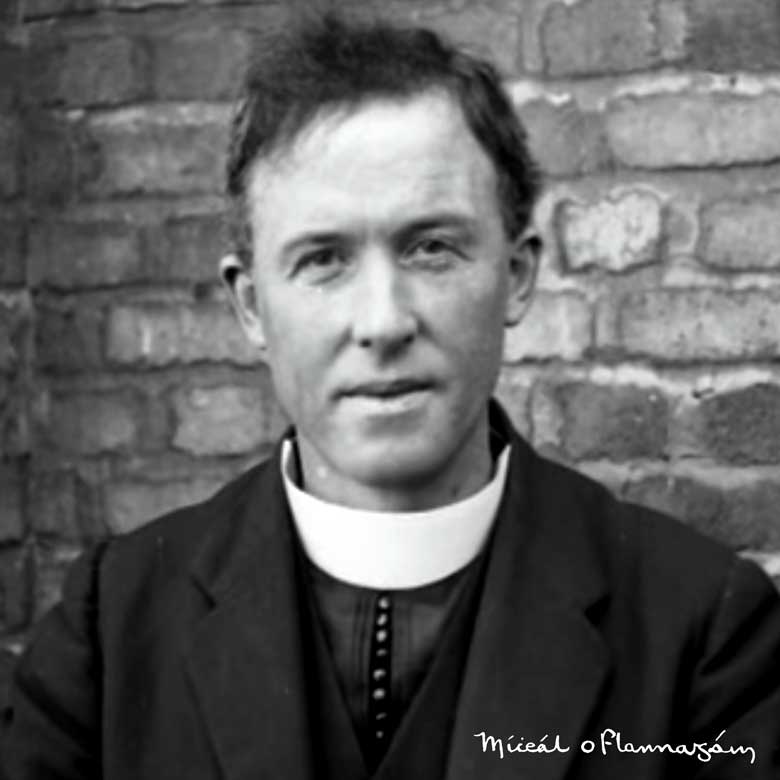 O'Flanagan travelled extensively throughout his lifetime, spending many years in the United States, and several months in Rome. After five months as Republican Envoy to Australia he was deported in 1923. O'Flanagan, James Larkin and Frank Ryan were considered the best open-air orators of the twentieth century.
He was suspended from the priesthood for many years because of his political beliefs and attitudes. In later years he edited the 1837 Ordinance Survey letters and prepared sets for institutions and universities; in the 1930's he worked on a series of County Histories, and ten volumes were published by the time of his death. He died in 1942, was given a State Funeral, and is buried in the Republican Plot in Glasnevin Cemetery.
Early life and education
Michael Flanagan was born on 13 August 1876 at Cloonfower in the parish of Kilkeeven, close to Castlerea in County Roscommon. He was the fourth of eight children born to Edward Flanagan (born 1842) and Mary Crawley (born 1847). Both of Michael's parents were fluent speakers in both Irish and English, living on a small farm in what was known as a breac or speckled gaeltacht. When he was three years old, "An Gorta Beag, the famine of 1879" swept through the west of Ireland.
In both 1845 and 1879 the poorest in society, as they faced starvation, were forced to bear the brunt of the recession as Landlords, supported by the British State, refused to stop food exports or reduce rent. Indeed many landlords tried to use both crises to evict tenants into destitution and starvation in order to replace them with more profitable ranches while continuing to export food abroad.
While conditions were not as severe as thirty years earlier, there was great fear among the people who had survived the earlier starvation, expressed in a wave of religious fervour, as for example, the apparitions at Knock in 1979. The Flanagan family were staunch supporters of the Fenian movement. As a young man Michael lived through the evictions, boycotts and shootings of the Land War. His parents were and members of the Land League, and he was fascinated by politics, avidly following the rise and fall of Parnell.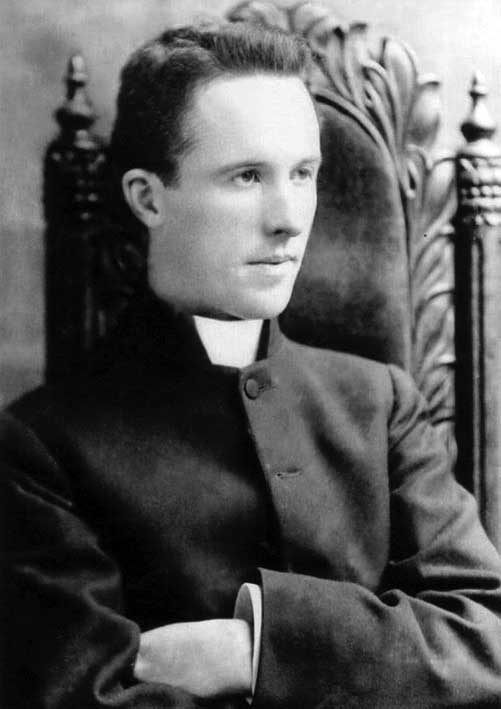 O'Flanagan attended the local national school at Cloonboniffe, known as the Don School, where his teacher "was a Michael O'Callaghan, and he became O'Flanagan's mentor and friend; O'Callaghan would also be a prominent Gaelic League activist." In 1890 O'Flanagan went on to attend secondary school at Summerhill College in Sligo. He entered St Patrick's College, Maynooth in the autumn of 1894 where he had an excellent academic record, winning prizes in theology, scripture, canon law, Irish language, education, and natural science.
O'Flanagan was ordained a priest of the Third Order of St. Francis for the Diocese of Elphin in Sligo Cathedral on 15 August 1900 at the age of 24. It was around this time that he began to use the Irish form of his surname.
"O'Flanagan was appointed to the academic staff of Summerhill College as professor of Irish; he immediately set about a study of the sounds of Irish and in 1904 published a small book on the rules of aspiration and eclipses. It was also he who proposed the wearing of the fainne as a sign to others of readiness to speak Irish."
While working in Sligo O'Flanagan was active in his promotion of the Irish culture and language, and he gave evening language classes in Sligo Town Hall. He was a founding member and secretary of the Sligo Feis, which was first held in 1903, when Padraig Pearse was invited to give a lecture titled "The Saving of a Nation" in Sligo Town Hall. Both Pearse and Douglas Hyde were the judges of the Irish language competitions in 1903 and again in 1904.
Fundraising in the United States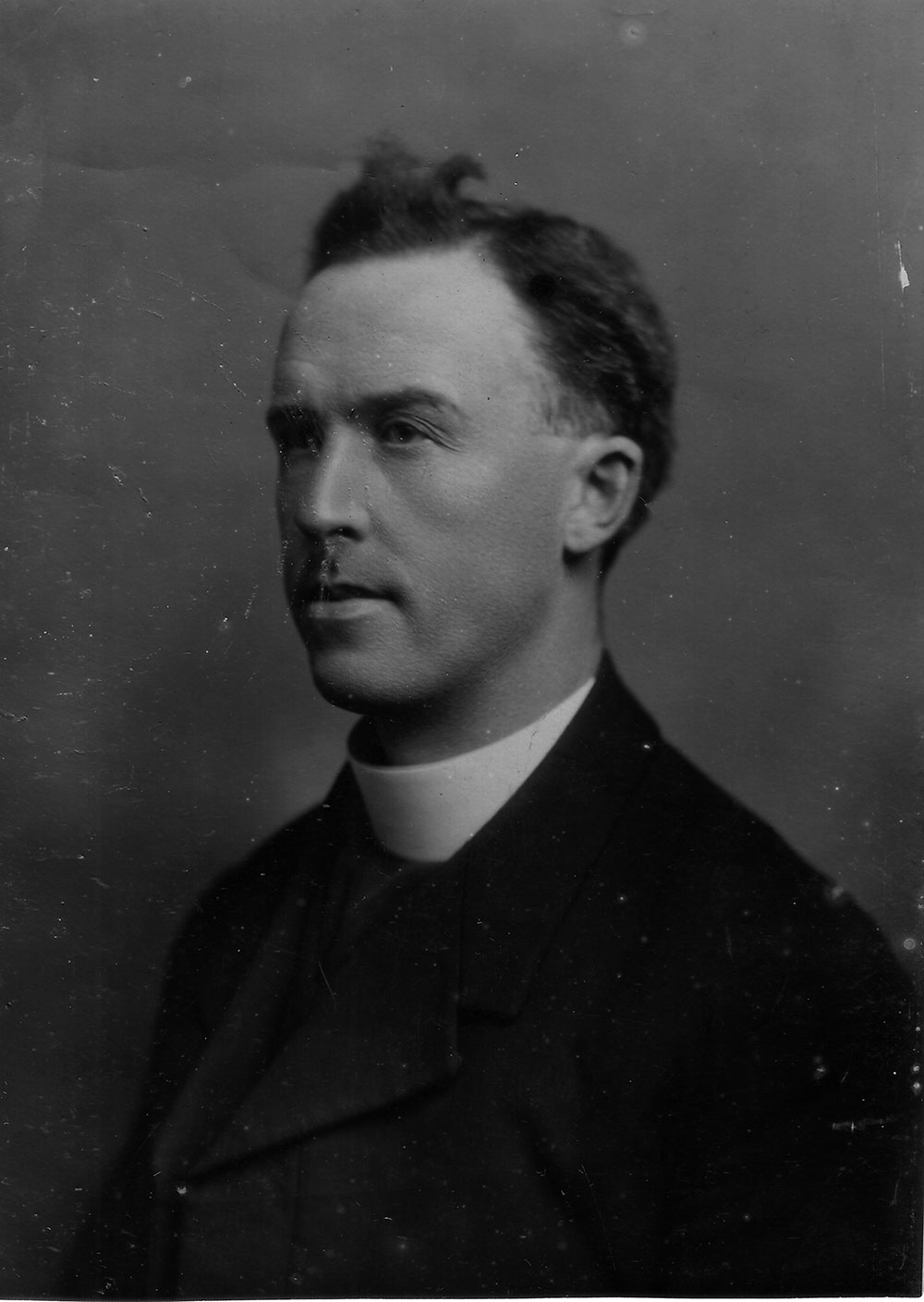 O'Flanagan was a keen supporter rural development and Irish self-reliance, with practical knowledge and point of view, having grown up on a small farm. He was a skilled public speaker and communicator and was vocal in agitating for radical social and political change. In 1904 he was invited by his Bishop John Joseph Clancy and Horace Plunkett to travel to the United States on a speaking and fundraising tour. Douglas Hyde wrote to him on 3 November to say that he had read O'Flanagan's work on Irish Phonetics with great interest and that he was sorry to see him go to America.
His mission was to promote Irish industry, in particular the lace industry, and to find investment and collect donations for agricultural and industrial projects in the west of Ireland. The diocese of Elphin had purchased the Dillon estate at Loughglynn in County Roscommon and had established a dairy industry there, managed by nuns of the Franciscan Missionaries of Mary. Part of O'Flanagan's mission was to pay off the outstanding debt on the venture.
O'Flanagan was an imaginative and innovative fundraiser; for example he brought a sod clay from every county, which was arranged as a map of Ireland on his travels, and charged people a dollar to step on the soil of their native county. He travelled with a small group of lace workers, who would give public demonstrations and show samples of various regional styles of Irish lace. O'Flanagan was an excellent publicist, and placed notices in regional newspapers to advertise the roadshow. He gave countless interviews and lectures on his travels and made many connections with the Irish American community.
He remained in the United States until he was recalled to Ireland in 1910.
Gaelic League Envoy

In June 1910 O'Flanagan returned to Ireland. He joined Sinn Féin, the party with which his name would become synonyms, and was elected to the standing committee. The party, founded by Arthur Griffith in 1905, was then in its "Monarchist" phase; O'Flanagan's radical influence would help transform the party in 1917.
In August, after attending a meeting of the Gaelic League he was elected to the standing committee. He reported "the existence in every part of the States of an Irish population that is ever anxious to hear of home progress and to meet any representatives of any Irish movement." Within a few weeks of his appointment to the standing committee the Gaelic League asked him to return to United States on another fundraising mission.
Along with Fionan McColum he travelled back to America to commence another round of fundraising. He went with the blessing of Bishop Clancy, who published a letter congratulating O'Flanagan on his selection. This mission was "moderately successful" remitting £3,054 between March 1911 and July 1912. He returned to Ireland where Bishop Clancy appointed him curate in Roscommon in 1912. On 19 October Bishop Clancy died, and his successor, Dr. Bernard Coyne was a conservative who resented O'Flanagan's perceived modernism and independence.
In 1912 O'Flanagan was invited to Rome to give a series of lectures for Advent, and was a guest preacher in San Silvestro for four weeks. While in Rome he spent time with his good friend Dr. John Hagan who was director of the Irish College, and there is a large collection of letters between the two in the Hagan archive there. O'Flanagan is often referred to as "Brosna'" in the letters.
In March 1913 a protracted strike broke out at the Sligo Docks. In May O'Flanagan visited the strikers to show his solidarity and advised them to continue insisting for their rights. It has been suggested that this display of socialism prompted the Bishop to move O'Flanagan to Cliffoney. When the advanced nationalist Keating Branch took control of the Gaelic League, O'Flanagan was elected to the Standing Committee for two years. A recently discovered photograph shows O'Flanagan in a large group, many of whom were advanced nationalists at a meeting of the Gaelic League outside Galway Town Hall in August 1913.
O'Flanagan was active in attempting to reorganise and popularise the Sinn Féin party. On 22 February 1914 while staying in Crossna, he wrote a letter to Count Plunkett with suggestions for the spread of Sinn Féin:
I enclose my rough outline of plan of organisation. It will need a good deal of criticism in regard to detail. My object was to get money in as quickly as possible so that we might get on with the work to hand. You would need somebody who has made a study of organisation methods to consider it carefully before adoption.

I think myself that the Sinn Féin organisation will now spread through the country if vigorously pressed from headquarters. Get the Sinn Féin Executive to send out copies of the rules to the principal men amongst the local committees of North Roscommon. If Sinn Féin spreads rapidly the Irish Alliance will not be needed. However, there is no time to lose.
In 1914 O'Flanagan was invited back to Rome to give a series of Lenten lectures, and he spent six weeks, again preaching in San Silvestro's. At the end of his course of lectures he received a medal from the pope, Benedict XV. While preparing to leave Rome, O'Flanagan was informed he was to be removed from Roscommon and was to proceed to Cliffoney in County Sligo.