Creevykeel court cairn
This well preserved site is said to be one of the largest court cairns in Ireland. It is one of the easiest sites to visit, as it is right by the Sligo - Donegal N16 road, 1 kilometer north of the village of Cliffoney. There is a parking space signposted, but it is easy to miss on this fast and dangerous road. Ten steps from the carpark is the cairn, which fills its own small field. The old name for Creevykeel is Caiseal an Bhaoisgin, the Fort of Bhaoisgin, Bhaoisgin being the well near the cairn. Bhaoisgin has become Wisken, in todays anglasized Gaelic. Creevykeel is the largest of a chain of five megalithic buildings along this ancient routeway.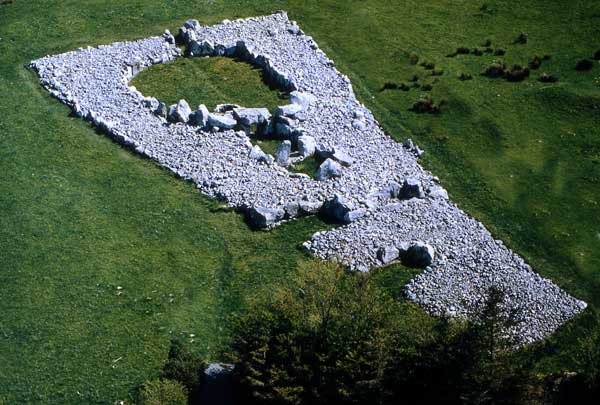 Creevykeel is a massive wedge shaped pile of stones arranged on a roughly east to west axis. The chamber and court open towards the east; the ground is falling away gently towards the sea, so the monument is facing up a gradual slope.
The cairn measures 55 x 25 meters, with the wider edge to the east and tapers away to a narrow tail on the west end. A narrow passage, which would probably have been roofed originally, leads into the massive inner court, which could easily hold 100 people. The court measures 15 x 9 meters.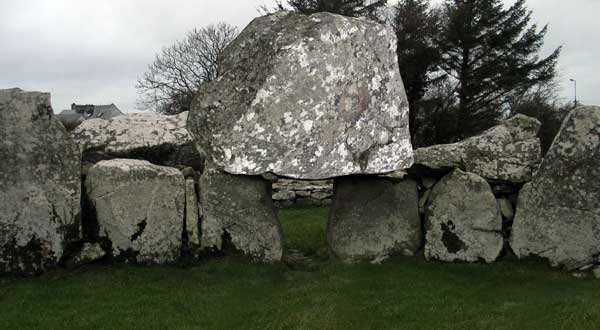 The standing stones (orthostats) around the court are quite massive chunks of local sandstone studded with pieces of quartz. The stones get larger approaching the opening at the rear of the court, which gives access to an inner chamber, now roofless but which was originaly covered with massive corbels, making a massive artificial cave. A corbel stone on the left as you enter the chamber has a large cobble: a hemispherical boss protudes from the stone, which looks worked but seems natural. The choice of location of this stone is interesting.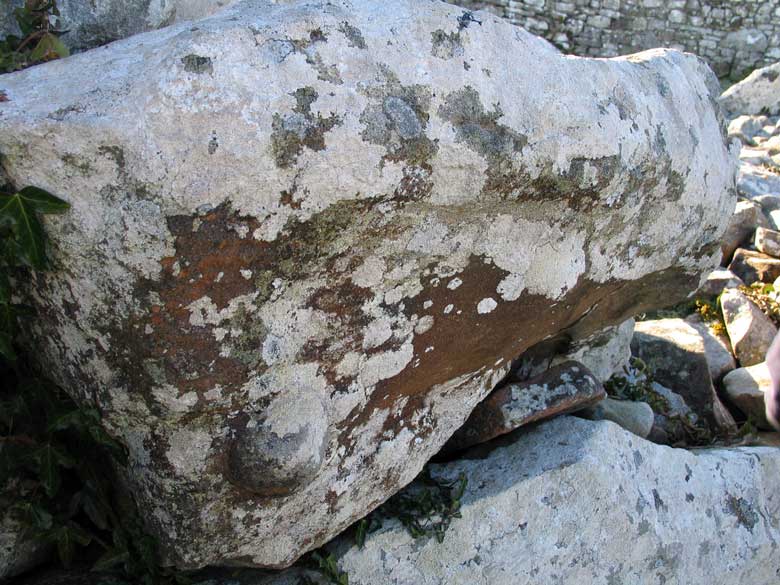 At the end of the double chamber is a large slab similar in shape to the engraved equinox slab at Cairn T in Loughcrew, and several other megalithic backstones. There are three smaller chambers at the western end of the monument, two on the north side and one on the south side. These are quite different to the main chamber, and are considered by some archaeologists to be small passage graves.