Cliffoney, County Sligo
Cliffoney is a small, ancient and extremely historic village in the north of County Sligo, within the ancient Gaelic kingdom of Carbury. Cliffoney lies close to the headland of Mullaghmore to the west and the fabulous glacial Gleniff Horseshoe Valley to the east.
The name Clia Fuinne means the Ford of the Wattles or Hurdles, from the ancient ford over the Cliffoney river at the north end of the village. This has been a main routeway, along the coastal plain between Donegal and Sligo since the neolithic or new stone age, when farmers from the continent began to land here in large numbers 6,000 years ago.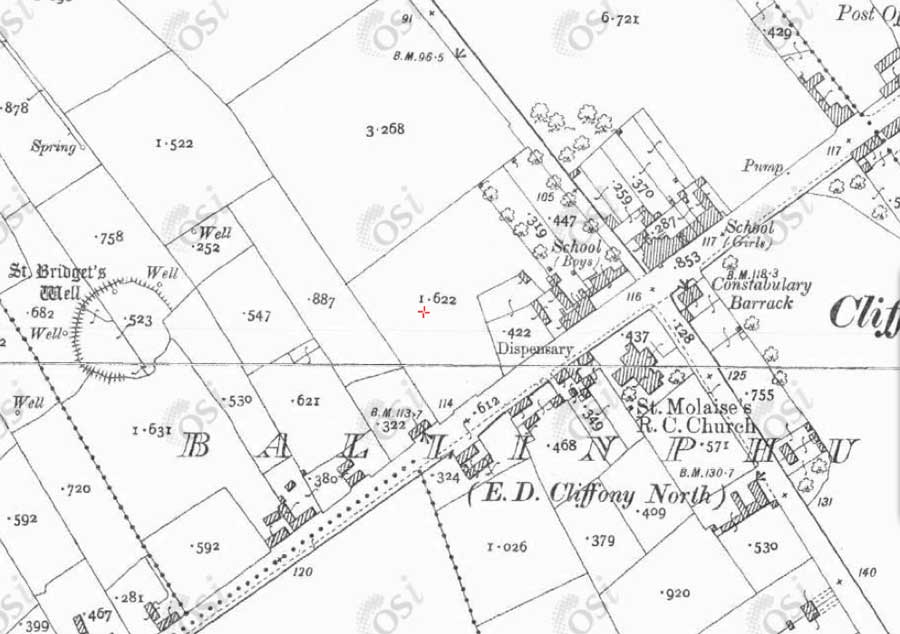 Neolithic Cliffoney
The oldest buildings in Cliffoney are the five megalithic mounments about the village, built on an outcrop of sandstone, in a line that closely follows the modern road. The best known of these is Creevykeel, one of the finest examples of a full court tomb in Ireland. Cartronplank is another court tomb, and was probably bigger than Creevykeel when complete, but is now quite ruined. Two more monuments are found in Creevymore, while another by Creevykeel was broken up to build a forge around 1880.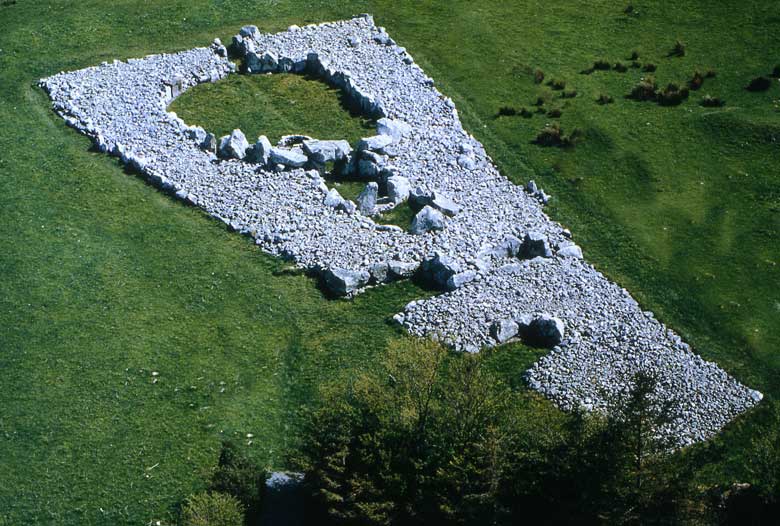 It would seem that Cliffoney was a very important area during the neolithic. The monuments around Cliffoney are of a very different kind to those found at Finner, Carrowmore and Carrowkeel, and would seem to have been built by a different people.
The large monument at Cartronplank was known as Toomnafearmore, the Grave of the Great Man. The name indicates that the person believed to be buried there was a giant of the Formorian, race one of the early tribes who contested the ownership of Ireland with the Tuatha Dé Danann during the Second Battle of Moytura.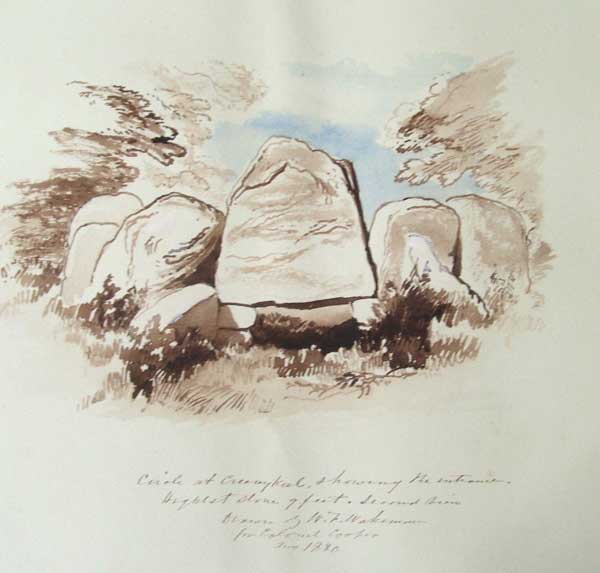 Cattle-raiding is a central theme running through every story in the canon of Irish mythology. Cattle first arrived in Ireland transported by sea with the neolithic farmer colonists from Brittany. The oldest domestic cattle remains come from the famous and controversial Ferriter's Cove on the coast of County Kerry. Dating to about 4,350 BC, they are extremely early given that the Irish neolithic begins about 4,000 BC. It is highly that they are the remains of a shipwreck during an early attempt to colonize Ireland.
We can be certain that when cattle did begin to arrive, they were highly prized and regularly stolen from the early farmers by non cattle-possessing neighbors - be they neolithic or mesolithic. I can easily imagine that the large centrally enclosed courtyard at Creevykeel was used as a sacred neolithic cattle pen, something between a temple and a cattle market.