Coolrea or Cuil Irra: the Remote Angle
The Cuil Irra peninsula is a strip of land on the coast of County Sligo, surrounded by mountains and sea, which was settled by ancient man in very early times. The peninsula is dominated by the beautiful mountain of Knocknarea which rises to a height of 321 meters at the western end.
The east of Cuil Irra has a low double hill called Carns Hill beyond which is Lough Gill, the Lake of Brightness. To the south is the chain of the Ox Mountains, a gniess, granite and quartz range said to be among the oldest mountain ranges in Europe. To the north is the unique sculpted plateau of Benbulben and Kings Mountain, while away beyond Sligo Bay rise the sheer cliffs of Sliabh League, some of the highest sea cliffs in Europe.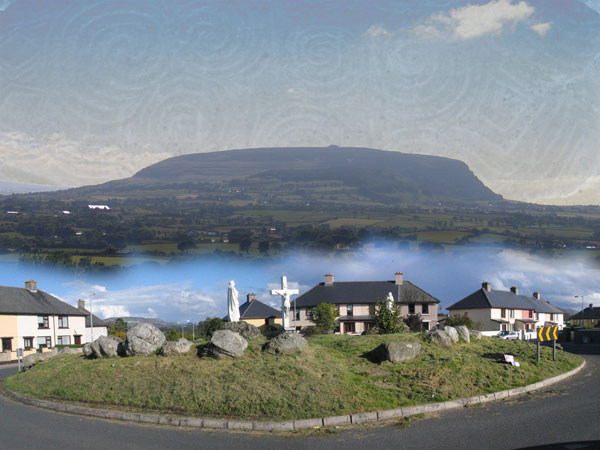 Queen Maeve's Cairn is on a line which crosses the country, passing through, Carrowmore, Cailleach a Bherra's House, Sheemor, Loughcrew, Tara and Howth.
The short Sligo river, the Garavogue (small and rough) empties from Lough Gill into Sligo Harbour, and would have been important for travel to the ancient people. It was also an important source of food - Sligo gets its name from Sligeach, the Shelly Place, and huge quantities of shellfish were found all along the banks of the river. There are still large piles of middens out along the shore at Culleenamore at the west end of the penninsula.
Local woodcarving mythologist Michael Quirke explains the mythology of the local godesses.
The Garavogue is the elder of a trinity of godesses in County Sligo. She is a witch, hag, or wise old woman who, in local folklore, is said to have built the cairns both here and in Loughcrew. In local mythology Garavogue lived in the cairn on Sliabh Da Ean, and there are a set of stories about her and Mad King Sweeney, the Donegal chieftain who was cursed by a Christain cleric. If you ever happen to be passing through Sligo town, pay a visit to local woodcarver and mythologist Michael Quirke, who tells great versions of the local myths in his shop in Wine Street.

The remains of a fine ancient monument sit not far from the shore of the Garavogue River at Abbeyquarter in Sligo - it is the oldest building in the town. Another, long since destroyed, is said to have stood on the site of St John's Cathederal in Sligo. Both may mark ancient fording points on the river.