Dartry Mountain megaliths
There are a number of megaliths in the landscape surrounding the Dartry Mountains. Many of these sites are court-cairns, the social and religious buildings of the neolithic cattle herders - Ireland's first farmers. There are many courts around the margins of Carbury which must have been good grazing land in the neolithic.
A chain of nine monuments runs down along the northern edges of the mountain, from Shesken at the mouth of the Glenade valley to the sites around Grange. This corridor, which passes the mouth of the Gleniff Horseshoe, is a major migration route for swans and geese.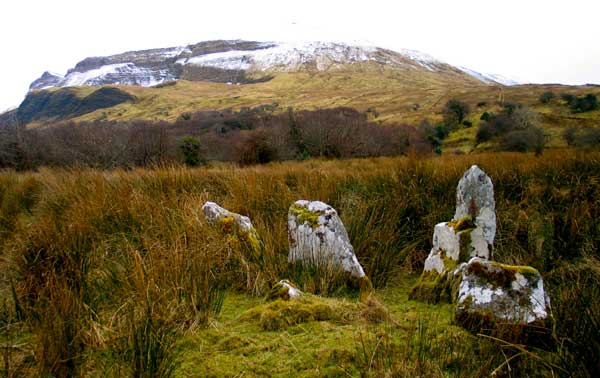 Perhaps the megalithic architecture was inspired by features within the local landscape. The court-cairns may be modelled on the Gleniff valley, a huge glacial hollow in the north side of Dartry mountain. There is a cave, Diarmuid and Grainne's, high up in the cliffs of Annacuna at the back of the valley. At the back of a typical court cairn you will always find a chamber or artificial cave.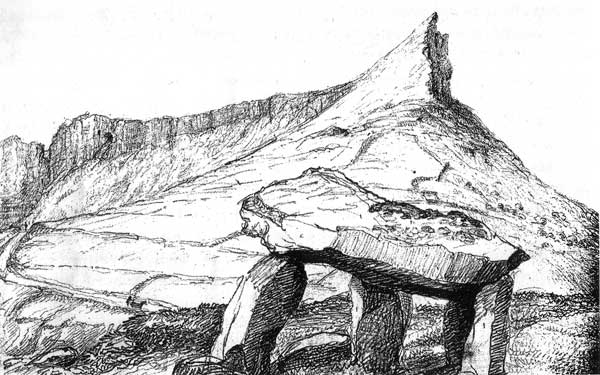 Some kind of megalithic tomb stood on a low hill within the entrance to the Gleniff Horseshoe. It may have been a wedge-tomb. The monument was undermined by gravel quarrying during the construction of the Barytes mines processing buildings. The monument collapsed between 1951 and 1962: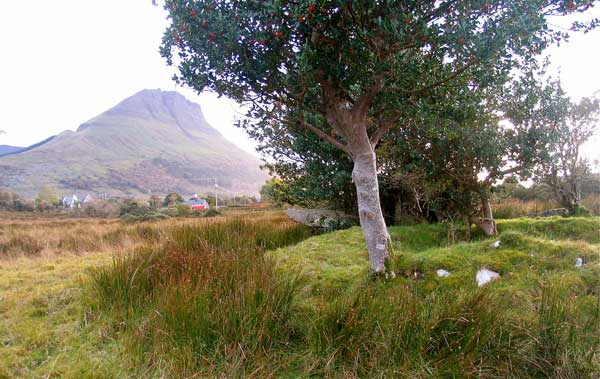 Locals call these megaliths giants graves or Trillicks, indicating a three legged structure. The Ballintrillick 'Trillick' was a megalithic structure removed during quarrying operations around 1950. Another collapsed Trillick survives in boggy ground across the road from the national school. I don't know of any monuments recorded in the Gleniff valley itself, I have a feeling that the place was held sacred all throughout the mesolithic and neolithic. The area is remembered in mythology as one of Fionn MacCumhal's favourite places to hunt.