On Some Remarkable Archaeological Discoveries in Ireland
Author: Eugene Alfred Conwell
Source: Transactions of the Ethnological Society of London,
[Read June 26th,1866.]
On the 26th of February last, Eugene Alfred Conwell, Esq., of Trim, Co. Meath, Inspector of National Schools under the Commissioners of National Education in Ireland, a Member of the Royal Irish Academy, British Association, and several other learned societies, read a paper before the Eoyal Irish Academy, in Dublin, on his recent examination of the sepulchral cairns on the Loughcrew hills, County of Meath, Ireland, which embraced a minute account of thirty-one partially destroyed cairns, extending along a range of hills, two miles in extent, overlooking the beautiful demesne of Loughcrew, and about two miles distant from the town of Oldcastle.
These ancient sepulchral remains, which had hitherto escaped all previous observation and description, are said to surpass in point of magnificence, number, and quaint ornamentation, anything of the kind yet discovered in Western Europe.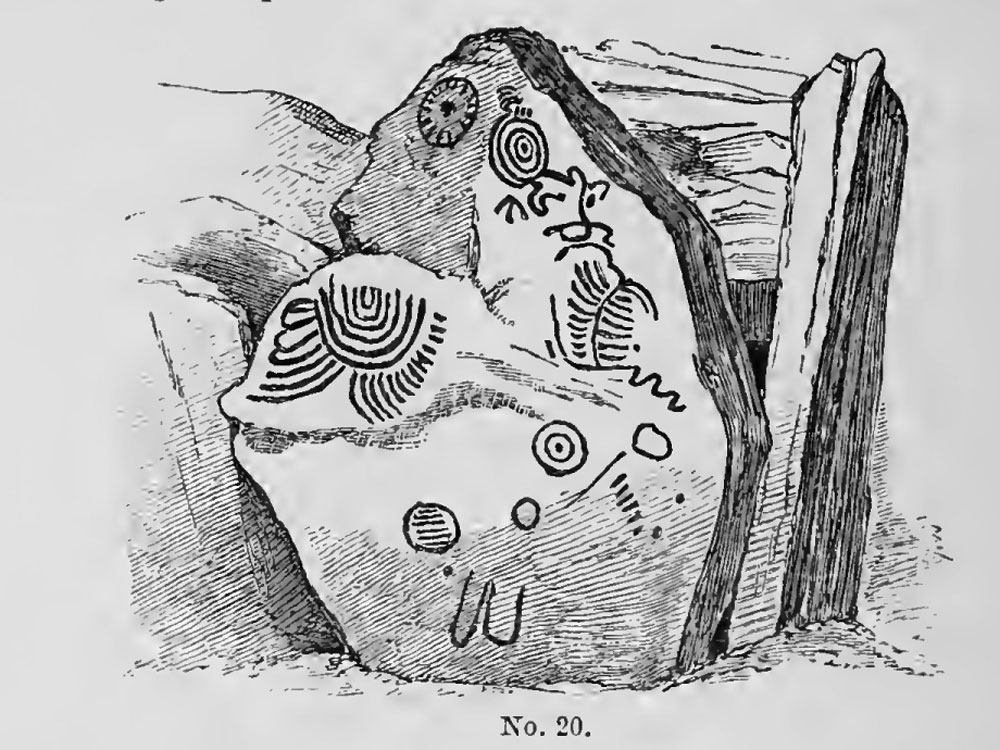 Mr. Conwell acknowledged the debt of gratitude which British archaeologists owe to J. L. W. Naper, Esq., D. L., Loughcrew, the lord of the soil, and to his agent, Charles W. Hamilton, Esq, J.P., for the indispensable aid which they supplied in labour during his researches, and for the interest and zeal which they evinced in the careful exploration of the place.
The internal arrangement of the chambers is, for the most part, cruciform, the shaft representing the entrance passage, and the termination of the arms, the small cists, from four to five feet square, arranged round the central chamber, roofed by large overlapping flags, and the whole being surmounted by a pyramid of dry loose stones.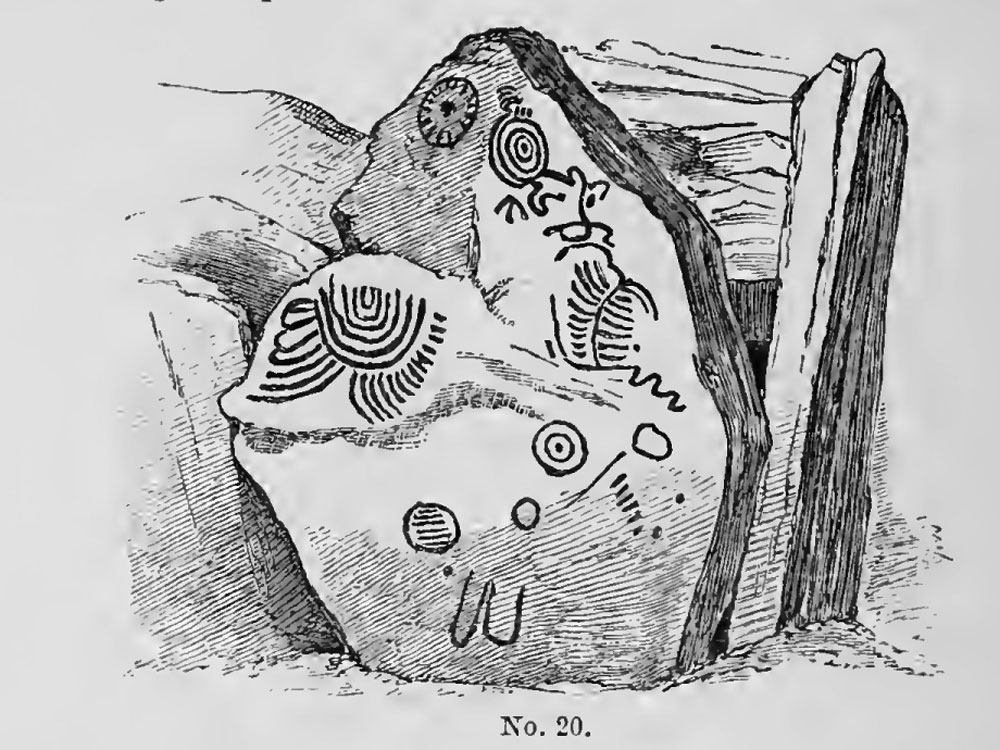 The three largest cairns were surrounded, at a few yards distance, by others of smaller dimensions; and in the larger ones the slabs, measuring from six to twelve feet long, which formed the periphery of the base of each cairn, were found to converge inwards towards a point indicating the mouth or entrance of the passage, which generally pointed in the direction of east, or a few degrees north or south of east.
The most common style of sculpturing on the inscribed chamber stones was punched work, executed by a metallic tool; but there are also examples of chiselled work and scraped work. Though the carved stones exceed one hundred in number, there are not two the decorations on which are similar. On the stones which have been long exposed to the destructive effects of the atmosphere, the punched or other work is often much obliterated; but on those lately exposed the work of the tool is almost as fresh and as distinct as at the period of its execution.
At what remote, or even recent, period these ancient tombs have been subjected to demolition, it would be difficult to determine. Mr. Conwell, however, has heard from old men who were engaged at the work of exploration, that they recollected, before quarries were generally opened in the country, that persons were in the habit of coming from twenty to thirty miles round about, to procure from these archaic structures slabs suitable for domestic or other purposes.
Of what now remains, deprived of most of the roofing-flags, the inscriptions on the sculptured chamber-stones in thirteen cairns in the entire range may be thus summarised:
406 single cup like hollows, some arranged in parallel lines, some in circles, and many of them scattered in groups;
86 cups, each surrounded by a single circle;
30, by two circles;
17, by three circles;
4, by four circles;
3, by five circles;
4 cup-hollows, each surrounded by a spiral;
35 star-shaped figures,varying from four to thirteen rays in each;
22 circles, withrays emanating from each;
14 cups, each surrounded by a circle, with rays emanating from it;
16 single ovals;
1 figure of two concentric ovals;
1 of six;
114 single circles;
32 figures of two concentric circles;
10 of three;
6 of four;
4 of five;
1 of six;
68 semi-elliptical, or arched figures;
12 spirals;
14 quadrilateral figures;
6 triangular figures, formed by cross-hatched lines;
54 reticulated figures, consisting, in all, of 138 diamonds;
nearly 300 single straight lines, some of which may probably be oghamic;
upwards of 80 zig-zag, or chevron lines; 10 single curves;
11 figures of two concentric curves;
10 of three;
8 of four;
4 of five:
4 of six;
20 of seven;
1 of eight;
1 of nine;
and 2 of thirteen concentric curves.
In all, so far as the explorations have gone, Mr. Conwell has laid bare 1393 separate devices, which will be found to be many times more than had been previously supposed to exist in Ireland; and these chiefly in the sepulchral chambers at Dowth, Knowth, and New Grange.