Irish Passage Graves
In Ireland this world and the world we go to after death are not far apart.'
W. B. YEATS.
Chambered cairns or Passage Graves, as they are oficially known are the most intriguing of the Irish megalith, being by far the most complex kind of monument. These monuments are cairns of stone with internal chambers, artificial caves varying in size from the tiny spaces at Carrowmore to the massive arched vaults of Newgrange and Knowth.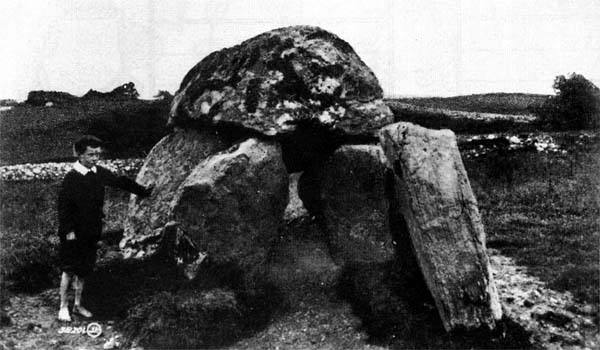 Aside from the well known sites at Carrowmore, Carrowkeel, Loughcrew and the Boyne Valley there are probably another 200 unopened mounds and cairns, such as the sites around Cong, Knockma and on the northern summits of the Burren, and all through the Dublin and Wicklow mountains. The oldest monument on the celebrated Hill of Tara is the chambered cairn known as the Mound of the Hostages, below, under excavation in 1950.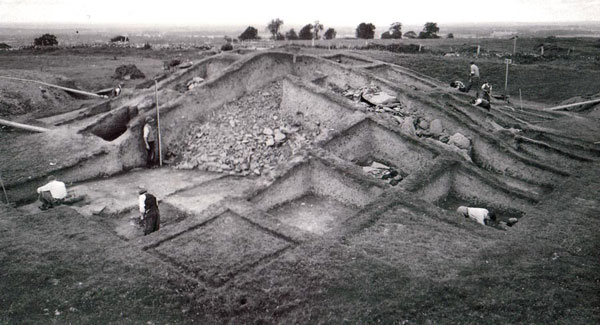 'Passage graves' are generally round mounds or cairns of stone with a passage constructed of megalithic slabs, leading into an internal chamber or artificial cave. They are often found in clusters or complexes such as Kilmonaster in County Donegal, Carrowmore and Carrowkeel in County Sligo, and Loughcrew and the Boyne Valley in County Meath. The bigger examples tend to be the largest and most complex monuments in Ireland, and they are the megaliths with engraved art.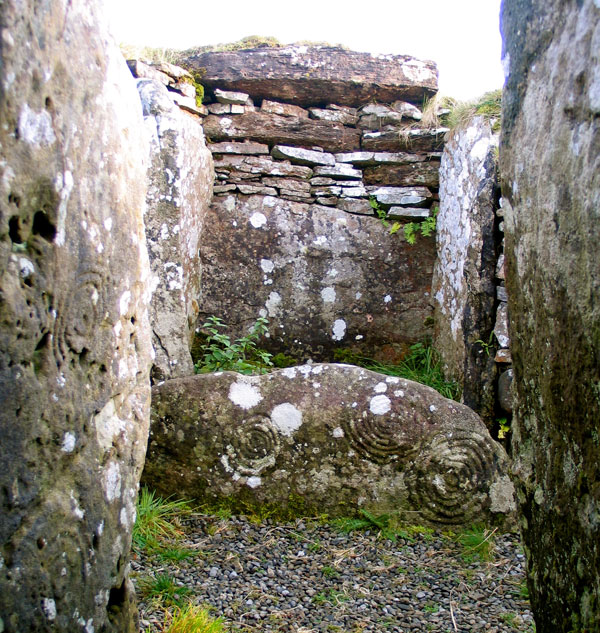 The most famous passage mounds are Newgrange, Knowth and Dowth in the Boyne Valley in County Meath where up to forty smaller mounds or satellites are clustered around the three massive mounds. They date from about 3,500 - 2,900 BC. The mounds are surrounded at the base by kerbstones, a retaining feature to hold the mound in place. These monuments also have proven astronomical alignments to the solstices, equinoxes and different phases of the moon, as well as other monuments.