Cartronplank
A large monument, probably another court cairn still exists on a farm one kilometer east of Cliffoney crossroads. Interestingly enough, this crossroads, some 200 from the megalith, is the traditional village midsummer bonfire site. There are two wells, a mound and a fine rath close by.
A long gallery and massive end slab stand in the farmyard, and sometimes used to store stakes and other fencing materials. Wakeman illustrated the monument twice. He gives the name Toomnaformire (The Grave of the Great Man), which appears to be a folk memory of the Formorians, who are said to have had fortresses at nearby Mullaghmore and Dernish; possibly this was a grave of Balor of the Evil Eye.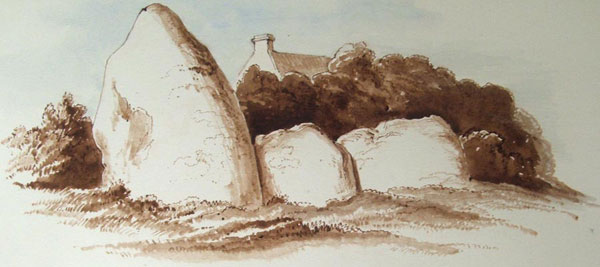 The gallery at is Cartonplank is about 7.5 meters long by 2 - 2.5 meters wide, and is entered by a 'pair of well matched jambs'. The chamber was divided into two or three compartments, the end closed off by a massive triangular flag, 2.4 meters high. There are two stones remaining of the court on the south side. Some confusion has arisen in relation to Wakeman's illustrations of these monuments. Borlase, in his 1895 Dolmens of Ireland, mistook the Creevykeel painting reproduced near the top of the page as an image of Cartronplank.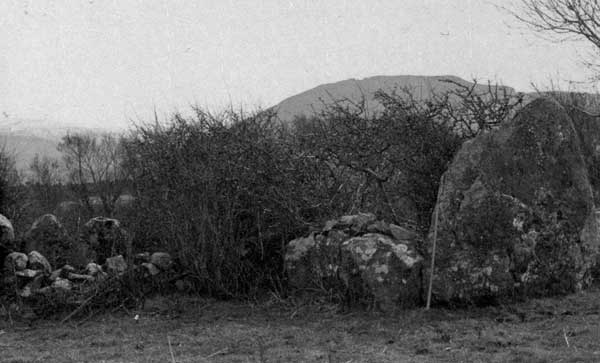 The megalithic monument isclost to the summit of Cliffoney hill, located about 200 meters west of the Cliffoney river, and is probably on an ancient ford. The land drops away down to the shore at Cliffoney beach 1.5 km below. There are two wells to the south, both within 100 meters of the monument. There are several notable ringforts close by, including a large, well preserved example just 300 meters away on the summit of the hill, a large platform mound some 30 meters in diameter that commands wide views across the surrounding countryside.