TheAbbeyquarter stone circle.
The Abbeyquarter stone circle is one of the most unusual monuments in County Sligo, or indeed anywhere in Ireland. It is also known as the Garavogue Fairy Fort The circle of 44 boulders is 23 meters in diameter and stands on a knoll overlooking the river Garavogue. The Garavogue is only 8 km long, flowing from Lough Gill through Sligo Town and into the sea.
The Abbeyquarter monument is Sligo towns oldest building. It is a boulder circle of the Carrowmore type, which originaly had a cruciform structure at the centre. This is a stratiegic position allowing travellers to pass north and south without crossing Lough Gill and the mountains which bound it on all sides.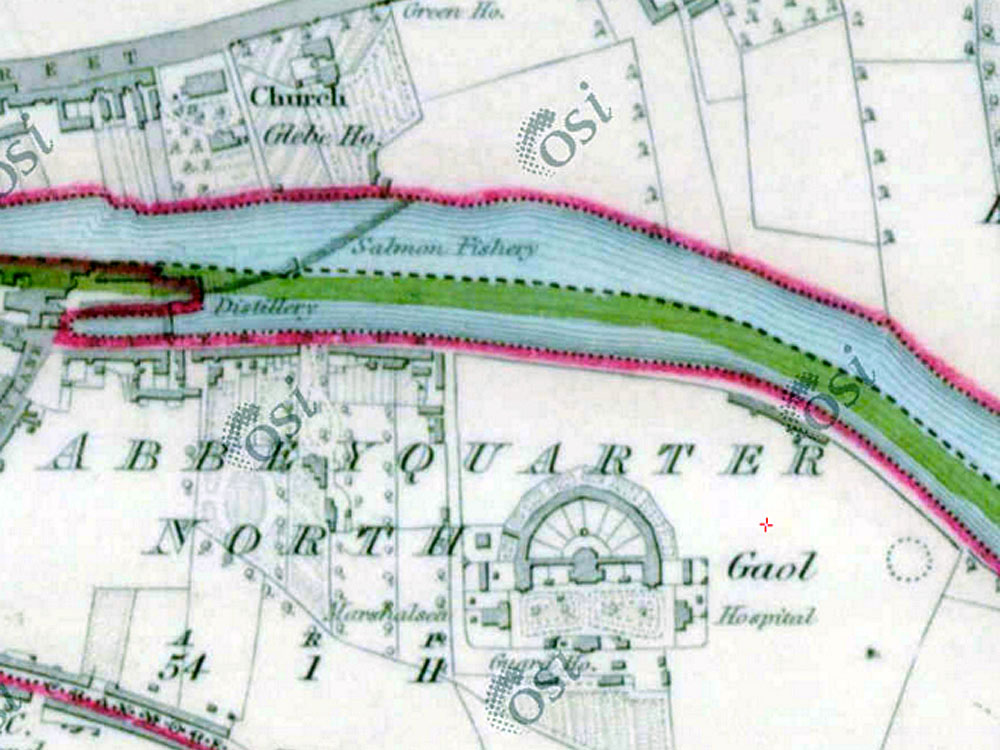 The Stone Circle remained and the town of Sligo grew and expanded. It is called Abbeyquarter as it was on the Abbey property. In the Seventeenth Century the monument appeared on the Seal of Sligo - probably it's importance was recognised by some of the Freemasons in the town.
At some stage in the recent past, probably prior to 1950 the Catholic Church attempted to have the monument removed, but they had trouble persuading anyone locally to do the job for them. It is said that an old woman, a 'sean cailleach', came rowing across the lake in a boat and warned the people that bad luck would fall on anyone who disturbed the circle. A man is said to have uprooted a thornbush which grew in the centre, and he was dead within a few weeks.

The Catholic Church set up the statues at the centre of the monument to celebrate the year of the Assumption in 1950. Crosses were erected all over Ireland in that year to celebrate the Dogma of the Assumption. Other crosses on ancient monuments in the region were erected at Tobernalt three km south of Abbeyquarter, above the Caves of Kesh Corran near Ballymote, and on the Hill of Sheemor near Carrick on Shannon in Co Leitrim.
Today the Abbeyquarter Stone Circle sits in a roundabout surrounded by houses in the estate called Garavogue Villas. Until 1997 this was the only roundabout in County Sligo.