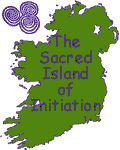 The view from Carrowkeel
From Cairn K, the highest point on Carrowkeel, there is a majestic view of the other summits, monuments and landscape around the Mountain. Each of the cairns has a unique view or aspect of its own, just as each monument has its own character. Aside from the much higher Pinnacle on Kesh Corran to the west, K has the widest view at Carrowkeel. Please do not climb on the cairn to appreciate the view; the lintols within are badly cracked.
Beginning in the southwest we can see the quartz cone of Croagh Patrick. 75 km away in west Mayo. An observer standing at the top of Carrowkeel can watch the sun set behind the Reek in early November and early Feburary, the cross quarter days. This alignment was marked with a specially cut stone in the west recess of Cairn K.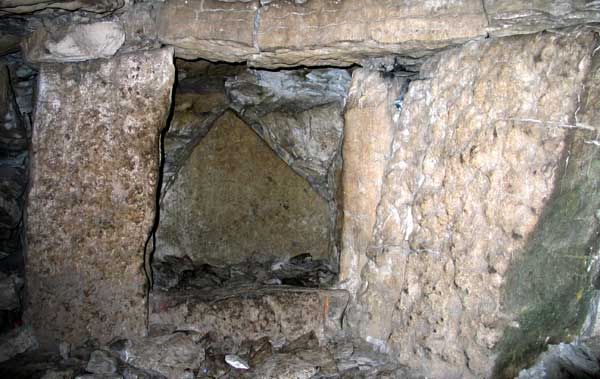 Pointed stone known as the Croagh Patrick stone within the large right-hand recess of Cairn K at Carrowkeel.
Moving northwards the next mountain is Nephin in north Mayo, one of the twelve chief Mountains of ancient Ireland. Nephin has a large cairn on the summit. Next up is Kesh Corran, which covers a good portion of the horizon. On the highest piont, within a huge neolithic enclosure, is a large unopened cairn called Finn MacCumhail's hunting mound or the Pinnacle. On the north end of Kesh is Cairnanweelan where two caves and a megalithic building are found.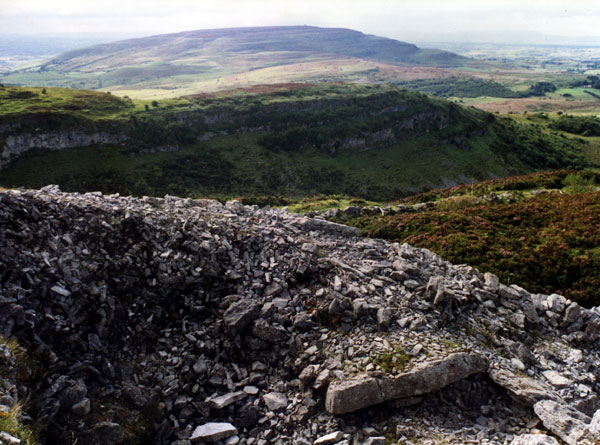 The view to the west from Cairn F at Carrowkeel, looking across Cairn B, Treanmacmurtagh, Treanmore and Kesh Corran.
Continuing clockwise we come to Muckelty hill and Knocknashee, two sites with neolithic and later monuments on their summits. Muckelty has a stone cairn within a large round enclosure that encircles the hilltop. Muckelty is a double hill, like Knocknarea and Cairns Hill. Knocknashee is a massive site, a neolithic village of 30 huts is located on the flat summit between two cairns. The higher of the two cairns has a chamber or cist with some probable iron age scratches. The whole hill was fortified during the bronze age. A fascinating site.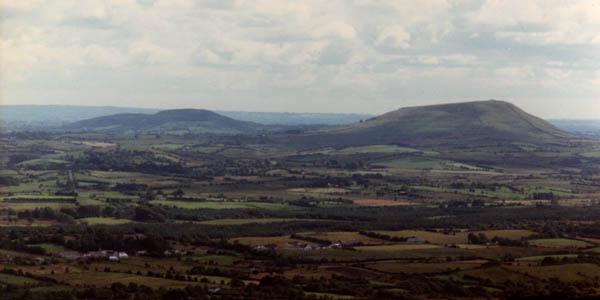 Muckelty Hill and Knocknashee, a pair of hills with neolithic sites on their summits.
Moving on we come to the Ox Mountains, where the sites at Doomore and Croughan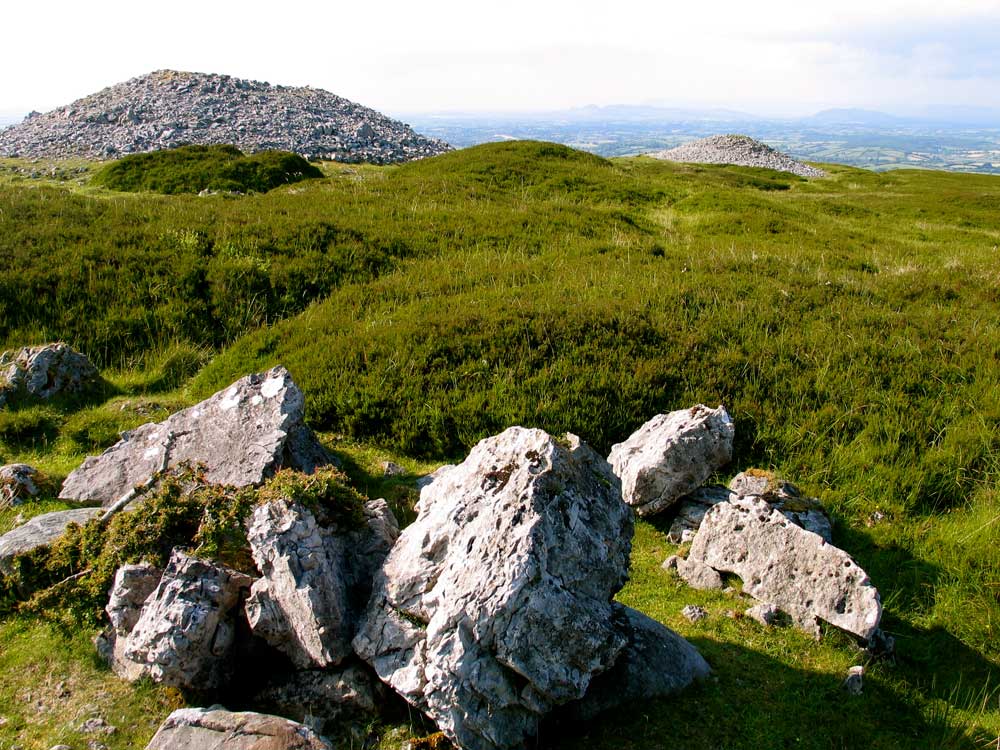 Arrows point to Knocknarea from Cairn H and Sliabh Da Ean from Cairn G, part of a Sligo VEC project about the neolithic landscape of County Sligo.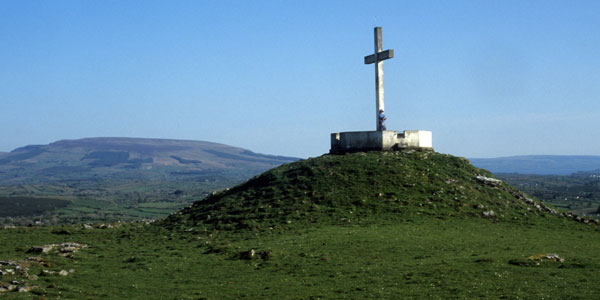 A modern Christian cross on the neolithic cairn at the summit of Sheemor, the Great Fairy Hill in Co. Leitrim.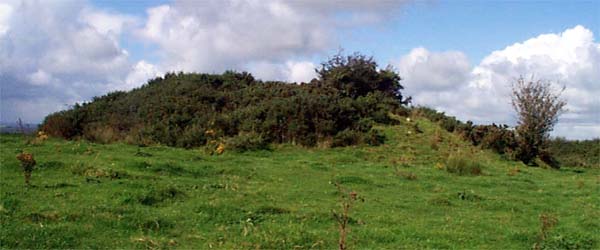 Fairymount cairn, Co Roscommon.
Southeast