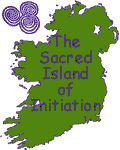 Doonaveeragh mountain
The largest and oldest known prehistoric village in Ireland can be found on the flat plateau of Doonaveeragh Mountain on the east side of Carrowkeel and overlooking Lough Arrow in County Sligo. There are amazing views of the mountain and village from the edge of the escarpment to the east of Cairns G and H at Carrowkeel.
Doonaveeragh is a glacier-scraped mountain with a spectacular rift valley seperating it from Carrowkeel Mountain. The mountain is shaped like a giant ship with Cairns O and P on the highest points, and the village sited on the flat limestone plateau to the north of the cairns. The whole mountain, shaped like a monsterous ship, points towards Knocknarea in the distance.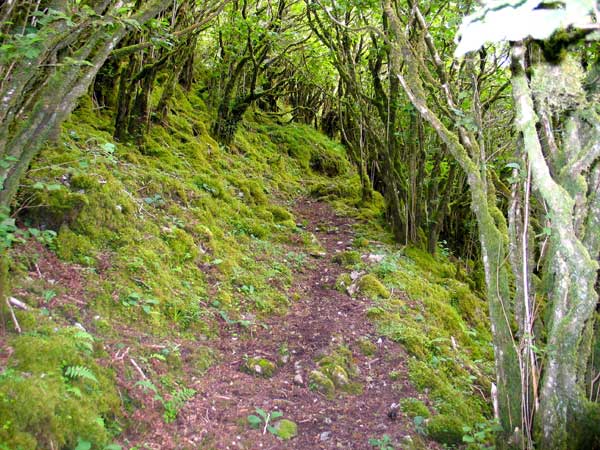 One of the trails on the east side of Carrowkeel that leads down through the hazelwoods and into the valley.
The valley between Doonaveeragh and Carrowkeel Mountain is the strip of land which gives the collection of megaliths it's name: Carrowkeel - The Narrow Quarter, and is probably a relatively modern name. Many Irish townland names date to the 16th century, when the country was being mapped for taxation purposes, and quarters and thirds are common names. The valley is also called the Devil's Gap or Bite - especially when viewed from the Yellow Pass on the old road over the Curliew Mountains.
The plateau has been known as the stone age village since Macalister surveyed it in 1911 and counted some 40 circles, the foundations of hut sites. However, without excavation there was no proof that the circles dated to the neolithic - the jagged fissured surface seems too rough to have been an ideal dwelling site, and there is no water. It is recorded that the army of Red Hugh O'Donnell camped here many times during the Nine Years War (1592 - 1601), and perhaps the circles were remains from that time?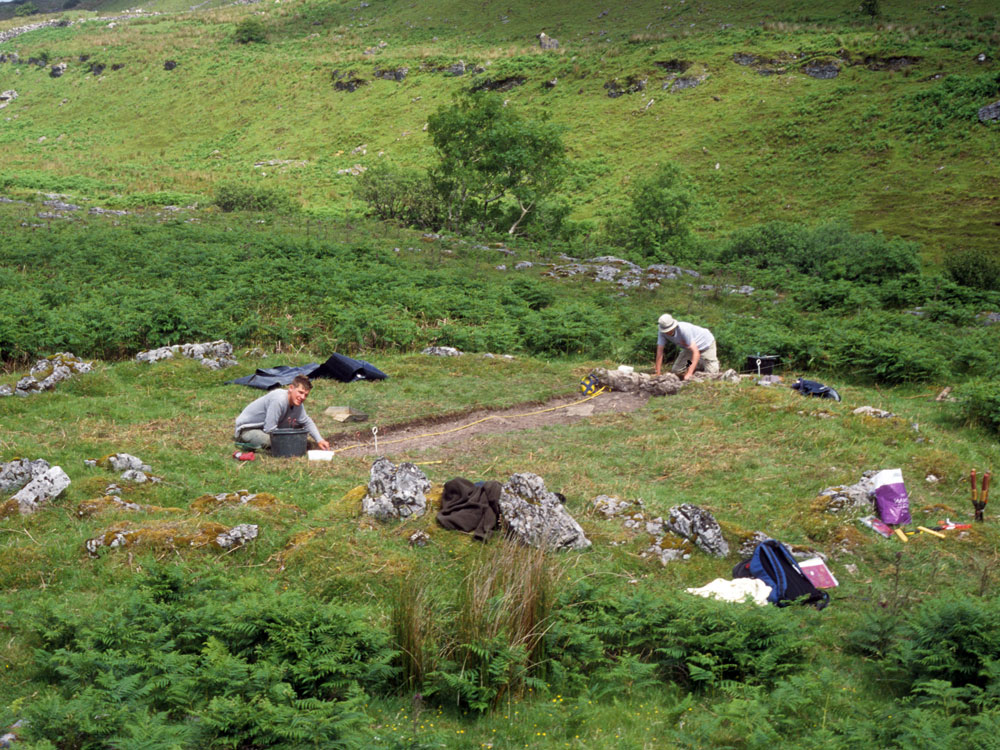 Excavation of a hutsite in 2003.
A 2003 excavation and survey has placed the village firmly in the neolithic, with the discovery of a flint knife. The survey recorded 180 circles of various sizes, and several other enclosures on the plateau. The largest circles tend to be on the east side of the plateau, nearest to Lough Arrow. There are several springs just below the eastern edge of Mullaghafarna, and further down, crossed by a stone wall is the shattered remains of a large court type monument.