Treanscrabbagh - Cairn B
Cairn B is the first and most dramatically sited cairn as you approach Carrowkeel, perched atop the cliff-walled spur in Treanscrabbagh townland at 260 m above sea level. Although it is difficult enough to reach this cairn, it is one of the few here in a good state of repair. The easiest approach to Cairn B is to walk south up the spur of the mountain and keep to the west side of the spur, where a path will allow you to scramble to the top. Any other way involves scaling the cliffs and grappling with the extremely rough growth at the top, which is in keeping with the name of the townland Treanscrabbagh, which means 'The Rough Third'.
Cairn B is 22 metres in diameter, making it one of the larger cairns in the Bricklieve group. Cairns B and F stand like sentinels on the cliffs above the Bricklieve Gap or Lough Availe, which is also known as the Long Mile and the Devil's Bit. Below the escarpment to the west are the remains of what may be a circular structure or hut site, about 20 meters in diameter.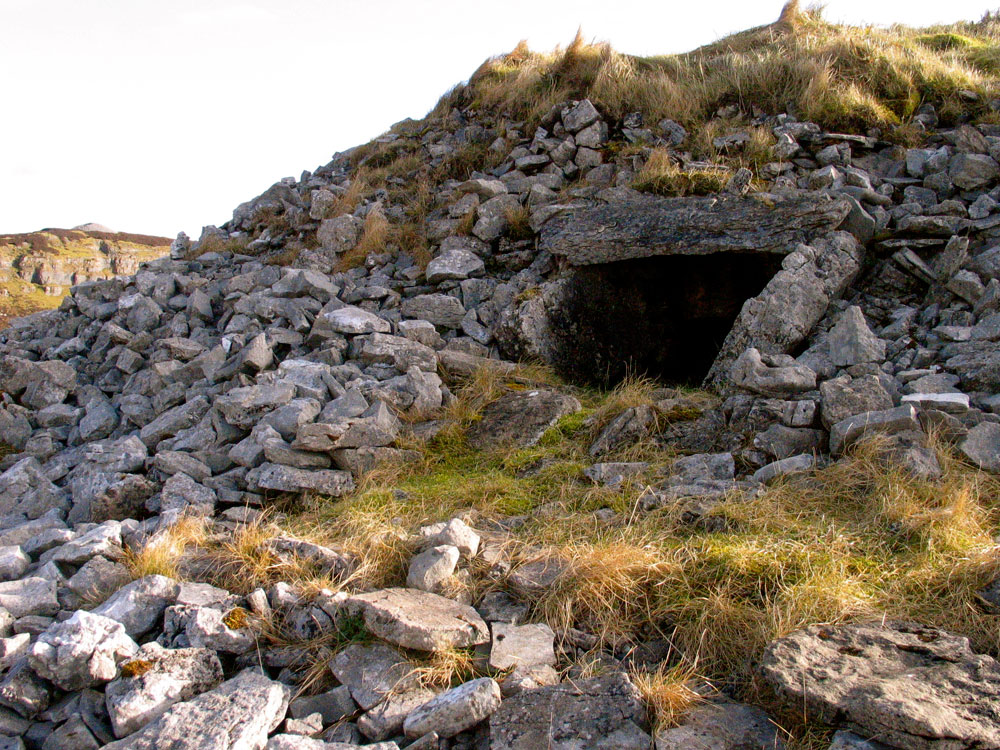 Cairn B has, apart from Cairns K and G, the most intact chamber to be found at Carrowkeel, a simple plan with no side recesses, known as an undifferentiated chamber; the passage, about 3 metres long widens to a small chamber. The entrance is high up in the body of the cairn. As with the other Carrowkeel cairns, the chamber is constructed with massive slabs of limestone and has two half-buried sill stones which divide the chamber from the passage. There is an unusual bulge or widening of the passage on the right-hand side of the chamber. Sill stones or thresholds are remarkably similar to sills found on modern sailing vessels. In ancient China, high thresholds were put into doorways to keep bad energies out of buildings. There is a small stone shelf or bench, probably a modern construction, at the back of the chamber.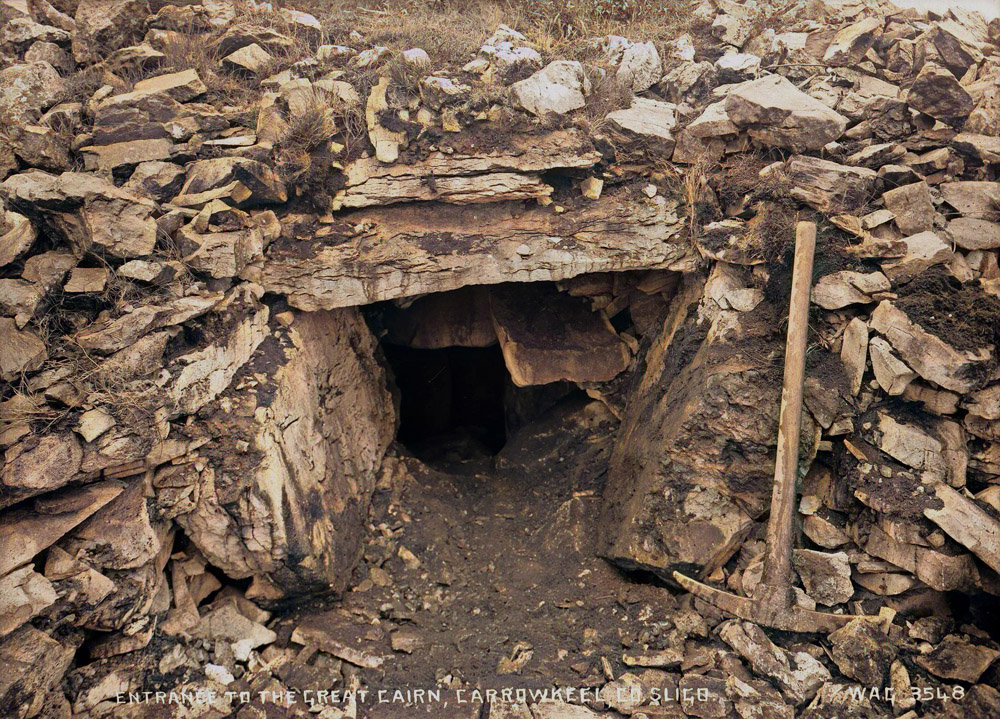 Local researcher Leo Regan has photographed the midsummer sunsets from this position. The sun sets into a dip or saddle to the west of Doomore in the Ox Mountains. There are several sites in this area that seem to be positioned with an aspect to the midsummer sunsets, such as Cairns A and G at Carrowkeel and Shee Lugh on Moytura across the lake.