Carrowkeel
Cairn A
Cairns C & D
Cairn F
Cairn G
Cairn H
Cairn K
Cairn L
Cairns M & N
Cairns O & P
Doonaveeragh
Treanmacmurtagh
Sheecor

Neolithic landscape
Over to the west, the landscape is equally spectacular with grass covered cairn-topped hills, steep valleys and Kesh Corann looming like a great crouched beast in the distance. A local myth tells that Kesh was formed from the body of a gaint sow, and that the smaller hills, Treanmor, Sheecor, Treanmacmurtagh on the east side are her piglets. The Bricklieve mountains have many kinds of monuments and settlements scattered about. There are several caves around Carrowkeel and many more in the sides of Kesh Corran.
Millions of years ago all of this land was ocean floor and tiny fossil creatures and corals can be seen in the rocks. Over most of the Bricklieves a thick layer of bog, up to 3 meters deep in places, has crept up to cover the limestone and gives the mountains a wild and rugged appearance. The peat began to form about 1,500 BC, many years after the cairns were built, when the climate cooled and became damp. At the time Carrowkeel was in use, the naked limestone, now so similar to the Burren in Co. Clare, was covered with grass and stood out from the forests. It is hard for us today to imagine how different the landscape was 6,000 years ago.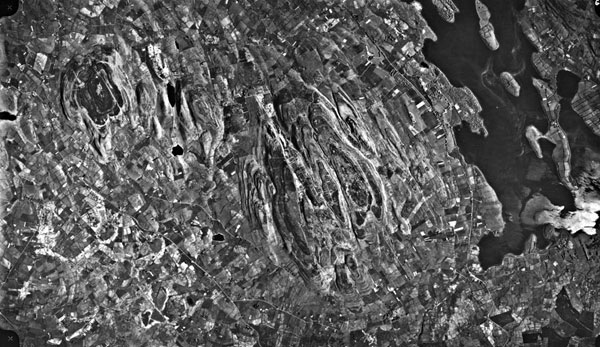 The Bricklieve Mountains and Lough Arrow, seen in an aerial shot from 60,000 feet.
The monuments were used throughout all time periods - from the bronze age, when pottery was placed in some of the chambers - to the late medieval period, when Red Hugh O'Donnell used Doonaveeragh plateau as a camp for his army during the Nine Years War (1592 - 1601). There are many old empty cottages around Carrowkeel, some of which were inhabited until the 1960's. There is a fine example of a mountain cottage below Carrowkeel and across from Doonaveeragh, where good examples of potato 'lazy beds' can still be seen.