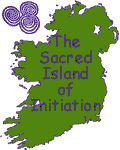 Sheemor
Sheemor is a limestone hill near Leitrim Village in the middle of Co Leitrim. The summit of the hill is 178 meters above sea level. From a distance the hill looks rather like a large altar, as the largest and centre-most of the three cairns on the flat top has a large modern Christian cross at the highest point. As if that wasn't strange enough, the cross is illuminated at night, and seems to float in the sky over the dark countryside! The cairn is about 22 meters in diameter and 5 - 6 meters high, and as far as we know, is unopened. The cross was erected in 1950 to mark the Catholic cessation of the dogma of the assumption.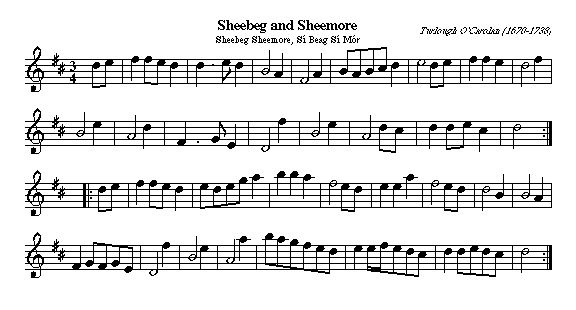 The music for Sheebeg and Sheemor, copyright Henrik Norbeck.
The two smaller cairns on the left and right are quite disturbed, and chamber or passage-slabs can be seen amid the stones, and the sites obviously date from the Neolithic, over 5,000 years ago. The large cairn, though much disturbed by the cross, remains unopened. This site lies between Carrowkeel and Loughcrew, and on clear days, Knocknarea, almost 40 km away, is visible.

From an archaeo-astronomers perspective, the Sheemor - Knocknarea alignment is highly signifigant. The winter solstice sunrise, viewed from Queen Maeve's Cairn, rises over Sheemor. Standing at the cross on Sheemor, the summer solstice sunset dropps behind Knocknarea. The cairn called Shee Lugh on Moytura is between these two sites. This is more evidence of large-scale surveying in Neolithic Ireland.