Culleenamore shell middens
Cullenamore is a beautiful stretch of beach along the west side of Knocknarea Mountain at the western tip of the Coolrea peninsula. Archaeologically, the whole territory is rich with ancient middens —large piles of marine shells, many of which date back to early neolithic times. On the shore is a 'ribbon' midden, a mound of shells 200 meters long and about 6,000 years old. There abundance of ancient monuments on the Knocknarea Peninsula, were built by the people who ate the shellfish. There are several more middens nearby, and alltogether a total of about 40 around the coast of the County.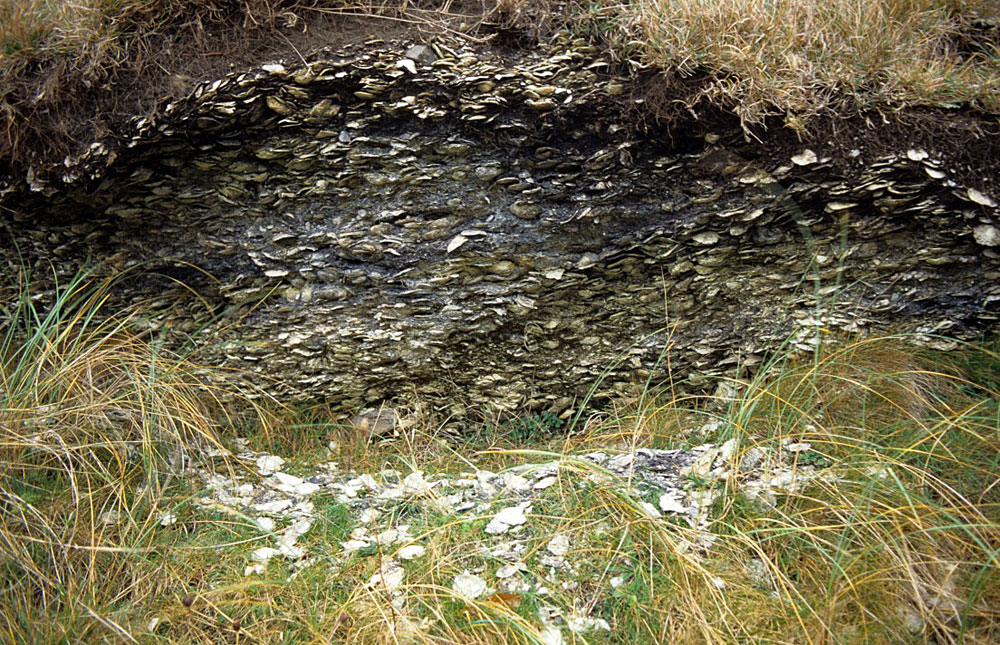 People have been coming to the peninsula since the mesolithic and the monuments at Carrowmore are currently dated as some of the oldest in Europe. It is probable that Coolrea has been inhabited since the end of the Ice age. It may be one of the first areas where farming came to Ireland, brought by a maritine route. The early settlers were surely happy to settle here for the abundance of food to be found; the area would have been an eden teeming with fish and wildlife. There was certainly enough sustanance to fuel the quarrying of limestone for the massive cairns, and the rolling of glacial gneiss boulders to build the largest of Irelands four great neolithic complexes.
The main settlement of the Carrowmore people has yet to be discovered. A large neolithic village of 160 hut sites is known on Doonaveeragh mountain at Carrowkeel 20 km to the southeast. The Coolrea settlement must have been on the eastern side of Knocknarea, where a plateau or hum joins the mountain at 190 meters above sea level. Unfortunately a fairly recent plantation of pine trees has obliterated any remains, but many pieces of worked chert and pieces of quartz have been found there.
However, 27 hut sites have been discovered on the south side of Knocknarea, above Culleenamore and the Glen, where a large medieval midden can be found. There is a trackway that leads up the mountain from the Glen and along the top of the western cliff overlooking Culleenamore, coming out near the neolithic huts. There are also neolithic banks running around the summit of the mountain. The path continues north along the top of the cliff to a small series of caves which were probably very sacred and used for much the same function as the chambered cairns. The chambers within the cairns are really artificial caves.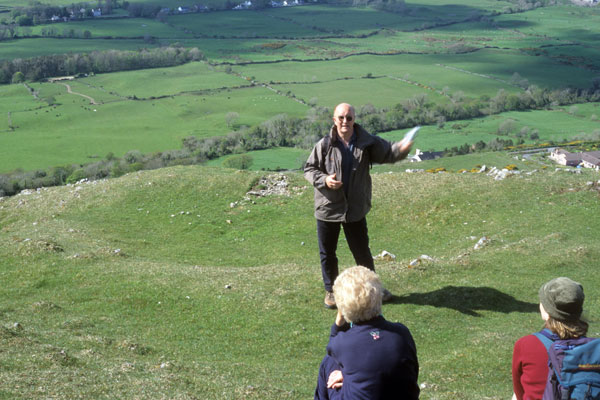 There are fine views across Ballisodare Bay to the cairns on Doomore and Croghaun mountains from the middens. A large colony of seals lives on the sandbanks south and west of the shoreline. In recent years a sperm whale washed up on the shore. Up untill the start of the 20th century, when the industry went into decline, Culleenamore oysters were exported all over the world.