Dowth and Newgrange described in 1914.
Behold the Sidh before your eyes,
It is manifest to you that it is a king's mansion,
Which was built by the firm Daghda;
It was a wonder, a court, an admirable hill.
This first tumulus we came to is the tumulus of Dowth, and a woman met us at the gate opening into the field where it stands, gave us each a lighted candle, and led the way to the top of an iron ladder which ran straight down into the bowels of the earth. We descended some twenty feet into a cavity as cold as ice; then, following the light of the woman's candle, we squeezed along a narrow passage made of great stones tilted together at the top, so low in places that we had to bend double, so close together in others that we had to advance sideways blessing our slimness; and finally we came to the great central chamber where the dead were placed.
It is about ten feet square, and its walls, like those of the passage, are formed by huge blocks of stone set on end. Then other slabs were laid a-top them, and then on one another, each slab overlapping by eight or ten inches the one below, until a last great stone closed the central aperture and the roof was done. In the centre the chamber is about twelve feet high. Many of the stones are carved with spirals and concentric circles and wheel-crosses and Ogham writing yes, and with the initials of hundreds of vandals!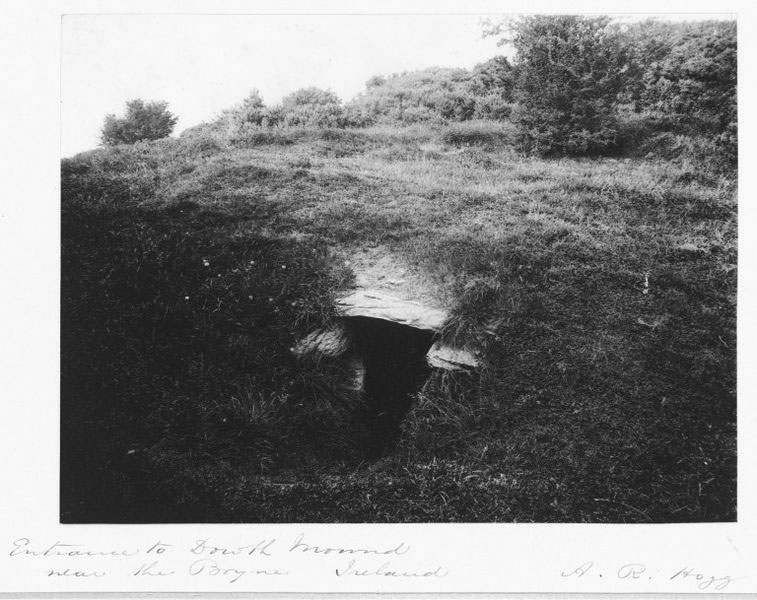 In the centre of the floor is a shallow stone basin, about four feet square, used perhaps for some ceremony in connection with the burials sacrifice naturally suggests itself, such as tradition connects with Druid worship; and opening from the chamber are three recesses, about six feet deep, also constructed of gigantic stones, and in these, it is surmised, the ashes of the dead were laid. From one of these recesses a passage, whose floor is a single cyclopean stone eight feet long, leads to another recess, smaller than the first ones. When the tomb was first entered, little heaps of burned bones were found, many of them human for it should be remembered that the ancient Irish burned their dead before enclosing them in cists or burying them in tumuli. There were also unburned bones of pigs and deer and birds, and glass and amber beads, and copper pins and rings; and before the Danes despoiled it, there were doubtless torques of gold, and brooches set with jewels but the robbers left nothing of that sort behind them.
Nobody knows when this mound was built; but the men who cut the spirals and circles and in one place a leaf, not incised, but standing out in bold relief must have had tools of iron or bronze to work with; so the date of the mound's erection can be fixed approximately at about the beginning of the Christian era. For the rest, all is legend. But as one stands there in that cyclopean chamber, the wonder of the thing, its uncanniness, its mystery, grow more and more over-whelming, until one peers around nervously, in the dim and wavering candle-light, expecting to see I know not what. With me, that sensation passed; for I happened suddenly to remember how George Moore and A. E. made a pilgrimage to this spot, one day, and sat in this dark chamber, cross-legged like Yogin, trying to evoke the spirits of the Druids, and just when they were about to succeed, or so it seemed, the vision was shattered by the arrival of two portly Presbyterian preachers.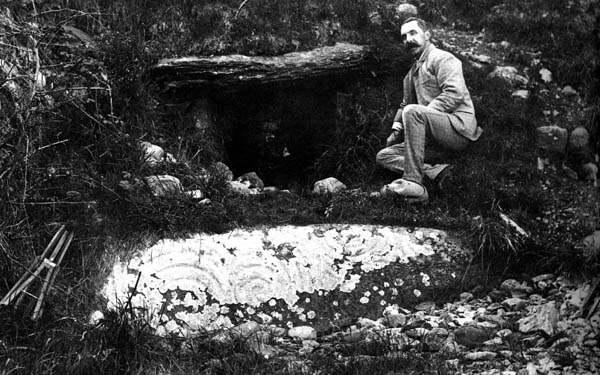 A tour of Newgrange with Mrs. Ann Hickey
But we set off again, and the car climbed up and up to the summit of the ridge which overlooks the river; and presently we were rolling along a narrow road bordered with lofty elms, and then, in a broad pasture to our right, we saw another mound, far larger than the first, and knew that it was Newgrange.
Four mighty stones stand like sentinels before it. The largest of them is eight or nine feet high above the ground and at least twenty in girth; and they are all that are left of a ring of thirty-five similar monsters which once guarded the great cairn with a circle a quarter of a mile around.