The Céide Fields
Situated on the north coast of County Mayo, the Ceide Fields is a fascinating glimpse of the life of early neolithc farmers in Ireland. The site consists of a massive set of early field systems, hut sites and court cairns which are thought to date from about the time people switched from hunting to farming in Ireland. Judging from the remains here, cattle were very important to these early farmers.
Though the main concentration of fields are found at Céide, as well as a scattering of other neolithic monuments, they may stretch for several miles east and west. More walls and monuments have been found on the hill of Rathlackan some 12 kilometers east of Céide, while monuments, fields and dwelling sites have been found at Belderg a few miles west of Céide.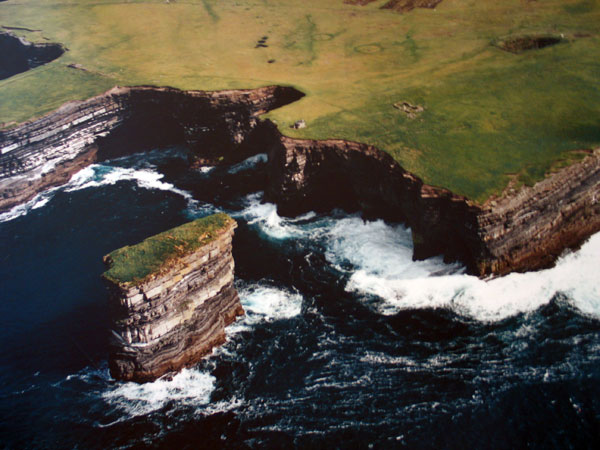 The picture today is that people farmed the land there, possibly planting crops such as corn, and kept and kept cattle and possibly sheep as their livestock. Archeologically this indicates a settled, established community. The main type of monument found in the area are court cairns. Several are scattered across the Céide Fields, in a rather similar fashion to more recent churches. For several years, these were considered to be the oldest type of megalithic monument, but more recent research in Sligo has shown that the courts may be contempory with the passage cairns. This makes an interesting picture when compared to the mythology of the region, which deals with two tribes, the established Formorians and the invading Túatha Dé Danann.