On several of my visits to Rathlackan I searched for the other two monuments marked on the map as being in the bog nearby, but without success. I managed to find them both on my last trip. Both are thought to be the remains of court cairns, but they are in poor condition.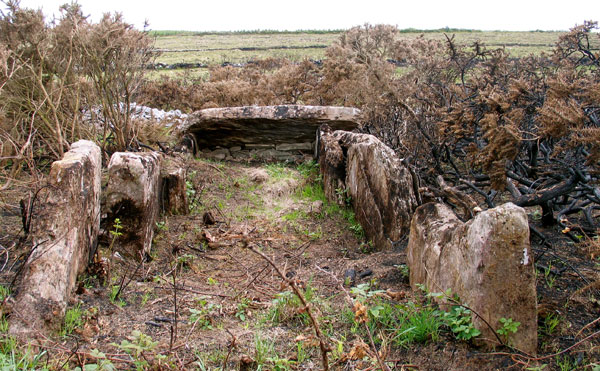 The gallery of the second court cairn at Rathlackan, not long after a bog fire had scorched the stones.
The monument in the photo above appears to be the gallery of a court cairn. I had never managed to find it because of the surrounding wynne bushes. The gallery or chamber is about 6 meters long by 2 wide. The large flag at the end is a displaced capstone which has slid from its position. The structure was caught up in a bogfire at Easter that scorched the stones.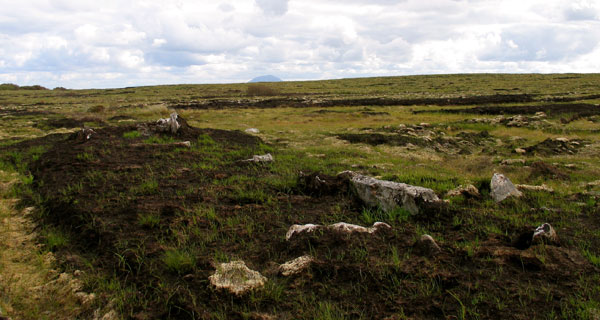 The third court monument is largely destroyed, but has a fine view to Nephin Mor, the mountain on the horizon.
The third monument is hard to find because it is so ruined: only a few stumps of stones remain of what looks like the gallery of another court cairn. This megalith is right beside a rough bog track which cuts across the monument beside the chamber. There is a fine view to Nephin Mor which has a neolithic cairn on its summit. There are also the remains of several neolithic hut sites around these three monuments.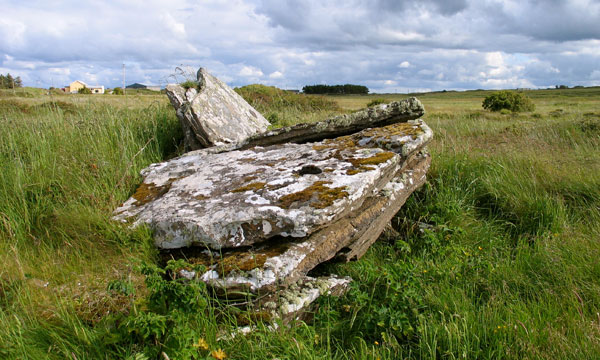 A collection of large flags, the Rathlackan wedge has collapsed.
The fourth monument at Rathlackan is a collection of huge limestone flags, most likely the collapsed chamber of a wedge. It is found about 3 km north of the court cairns, at a much lower altitude and closer to the shore. Wedges generally date to a thousand or so years after the other kinds of megalithic structures.