Rathra
In recent years archaeological research has thrown new light on the monuments around Rathcruchan. Surveys have turned up evidence of many structures which are no longer visible on the surface. Several large enclosures have been discovered, including the huge example which encircles the great mound of Queen Maeve. But the largest and most impressive monument in the area is the huge and impressive enclosure at Rathra a few kilometers to the west from Queen Maeve's Palace.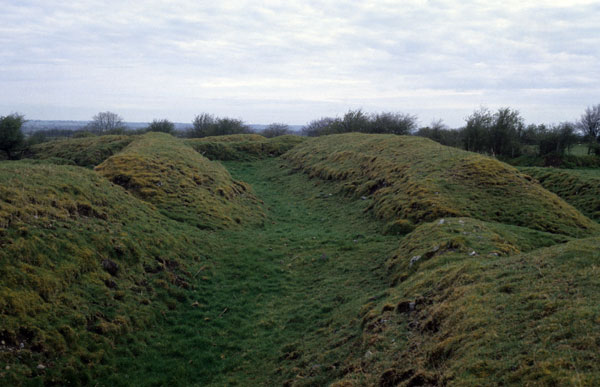 Ceremonial Enclosure
Rathra, a massive multi-valliate enclosure a few kilometers to the west of Rathcroghan is an amazing monument. The site is easy to access ( if you can find it! ), over a stile and a short walk across a field. The enclosure is truely massive, with four huge banks and four deep ditches encircling the central area.
This massive earthwork is about 160 x 150 meters in maximum diameter, and located on the west side of the hill of Mweelughadooey, commanding wide views to the west of Connaught. The great quartzite pyramid of Croagh Patrick, Connaught's sacred mountain, stands out clearly on the western horizon. The inner ring is about 95 meters in diameter.
Sadly, the earthwork is now on two different properties, and a quarter of the site has a strong barbed wire fence set on top of modern field banks. There is a souterrain ( a kind of underground passage, commonly found in these monuments ), an entrance in the ground between the two mounds.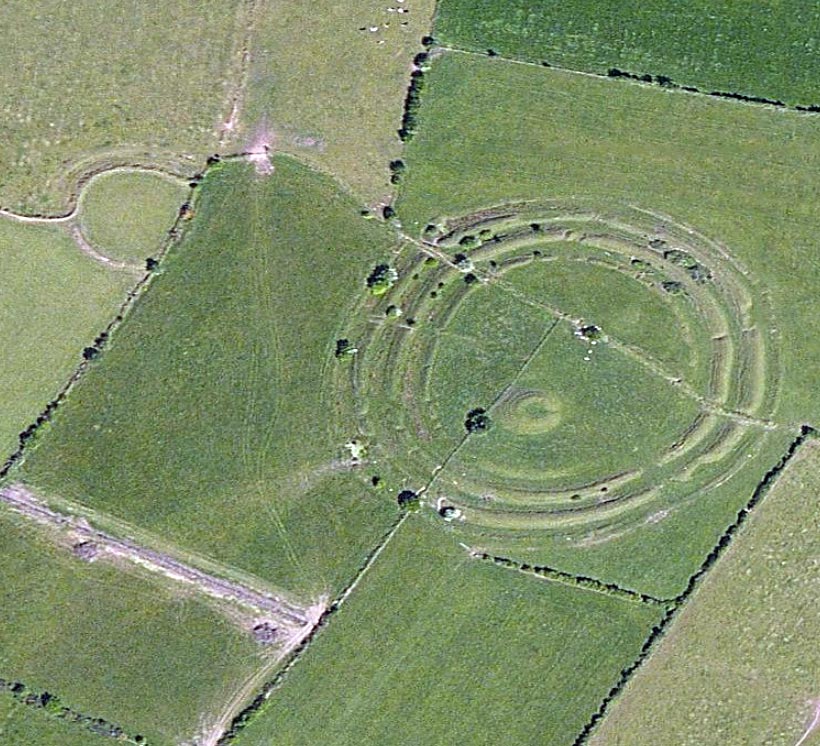 The Mounds
There are two mounds within the enclosure, one of which appears to be a barrow, is placed within the northern portion of the central area. This barrow is about 20 meters in diameter and once supported a small standing stone on its summit.
The second mound is a ceremonial earthen platform, possibly for a wooden structure of some kind, and very like a minature version of Rathmore at Rathcroghan. The mound is twenty meters in diameter at the base, two meters high, and ten meters in diameter on the top of the mound. An entry ramp gives access to the top of the mound from the east. The monument is surrounded by a ditch about 35 meters in diameter.
A similar mound is found on the summit of Mweelughadooey 800 meters to the south east of Rathra. Given its prominent location the second mound may well contain a passage-grave.