Sheebeg
This is a large and rather disturbed cairn on the summit of a low drumlin, just outside the village of Keshcarrigan in Co Leitrim. The mound is about 4 kilometers east of Sheemor, and measures about 35 meters in diameter. There are wide views across the landscape from the top of the cairn, which once again shows the importance of landscape in relation to these monuments. The cairn itself stands out on its summit and is highly visible from the surrounding landscape. There are several ruinous megalithic remains in the locality.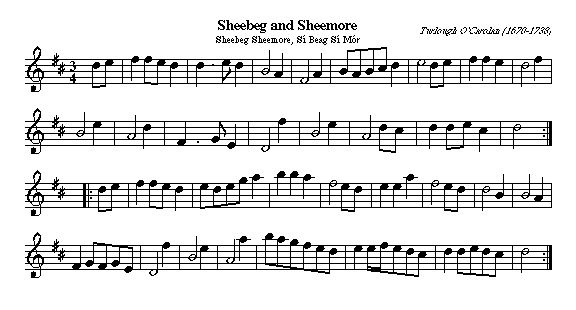 Sheebeg is known locally as Fionn Mac Cumhal's grave, and at some stage in the past a local opened the mound, doubtless digging for treasure. He dug down from the top of the cairn, and found a megalithic chamber which contained two massive skeletons. These skeletons were displayed for a time in a shed in Keshcarrigan, and could be viewed by the public for a charge of sixpence. However, the man's mother had nightmares and insisted he replace the skeletons in their grave.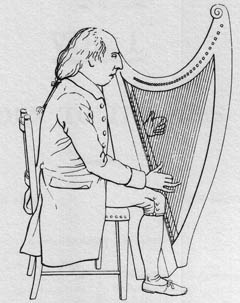 It was at Sheebeg that Turlough O'Carolan (1670 - 1738), the famous blind harper and composer, was said to have been given the gift of music by the fairy people. One of his first compositions was Sheemor and Sheebeg, a beautiful piece which was inspired by local stories of a great battle between the sidhe or fairy hosts who lived within the two hills. There is a strong tradition in Irish music of links with the 'little people' and many tunes which are still played in the tradition are said to come from the 'gentle people'. Carolan travelled the countryside on horseback, visiting the houses of the nobility and composing tunes known as Planxtys for them.