The great henge at Dowth.
This great monument, dating to the neolithic, is one of the largest henge monuments in Ireland. The enclosure, which is titled Site Q, is oval shaped, with a massive bank some 20 meters in width surrounding an egg shaped bank measuring 165 by 175 meters. The bank is about 5 meters high, and has two openings on opposite sides, one to the south west and another to the north east.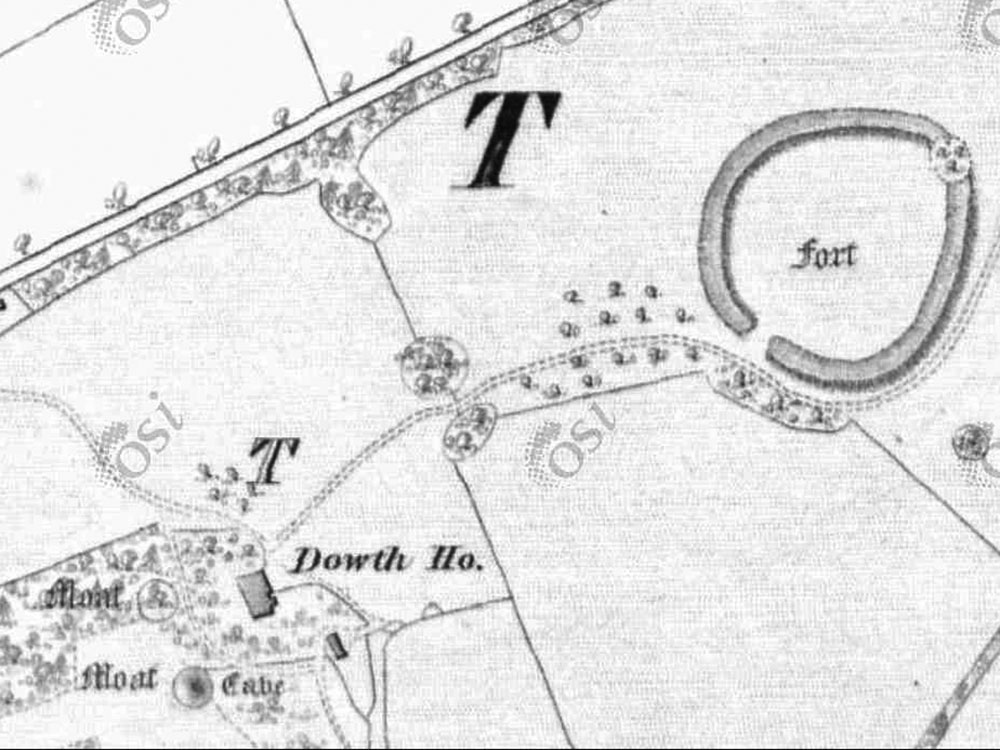 The openings may be astronomically aligned, as the axis is of the monument is in the midsummer sunrise, midwinter sunset line, though researchers think the south west opening is more modern. The henge is found on the grounds of Dowth Hall, which also has two small neolithic chambered mounds behind the house. The enclosure occupies the east end of the ridge, one km from Dowth, and overlooks the river Boyne below, 500 meters to the southeast.
Henges are thought to date from around 3,000 BC, and so are slightly newer than the great mounds. The number of henges within the Boyne Valley is increasing all the time, with several new examples being discovered in 2018 due to dry conditions. These huge monuments are obviously gathering places for large groups of people. We can only speculate as to what kinds of activities took place in the Dowth henge. This may have been a seasonal gathering place for pilgrims who came to visit the great mounds.
It could have been a sporting arena, where something like ancient hurling matches took place. It has been suggested that some English henges were used for displays of rtual hunting: as the neolithic farmers grew more prosperous, there was less need for large scale hunting and gathering. Displays of physical prowess, something like modern day bull fighting may have taken place here. The large bank is certainly ideal for spectators to sit and watch whatever action or drama whas happening within the enclosure.
The world's most famous henge, Stonehenge, is actually not a henge at all, but a complex stone circle.