The 97 Kerbstones at Newgrange
There are 97 large kerbstones encircling the base of the massive mound at Newgrange. The kerbs are of a type of rock called greywacke and they are thought to have been dragged or carried by boat to the Boyne Valley from Clogher Head some 20 km to the northeast, up the coast from the mouth of the Boyne.
Bovinda, a hide-covered ship built by the Boyne Currach Heritage Group.
The Newgrange kerbs are arranged from end to end in a huge ring that encircles the base of the turf mound. The massive chain of kerbstones define the boundry of the mound and helped to contain and stabelize the cairn of stones. They also mark the boundary between the living and the dead.
Discovery Programme digital version of Kerbstone 1.
Some of the stones are massive, the largest being 4.4 meters long, and generally they are of better quality of stone than the kerbstones at Knowth and Dowth.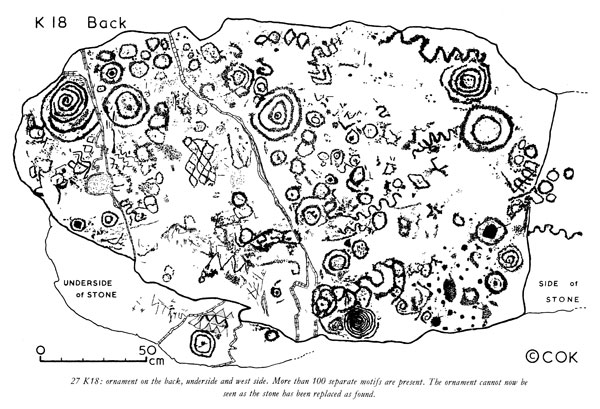 Many of the kerbstones bear bits and pieces of megalithic art, and three fine stones, kerbs 1, 52 and 67 are completely covered in complex panels of engravings. All the art on the kerbs is recorded in Michael O'Kelly's book on Newgrange; the art was recorded by his wife Claire, who traced all visible designs on to clear plastic.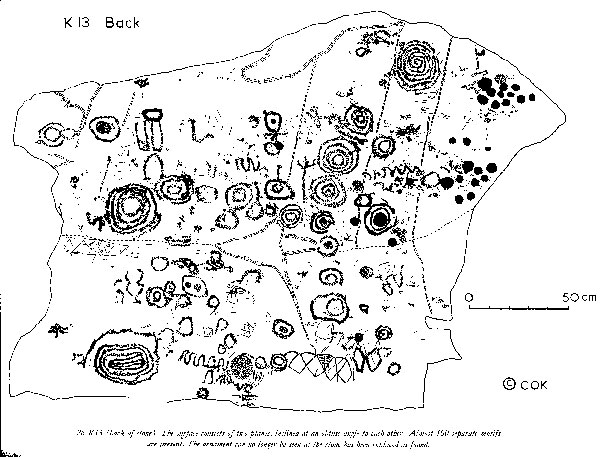 During the excavations it was discovered that a number of kerbs are also engraved on their inner faces, and would not have been visible once the mound was completed. Obviously they were engraved before the cairn was raised or filled. The kerb represents a massive expansion of what may have been a much smaller monument.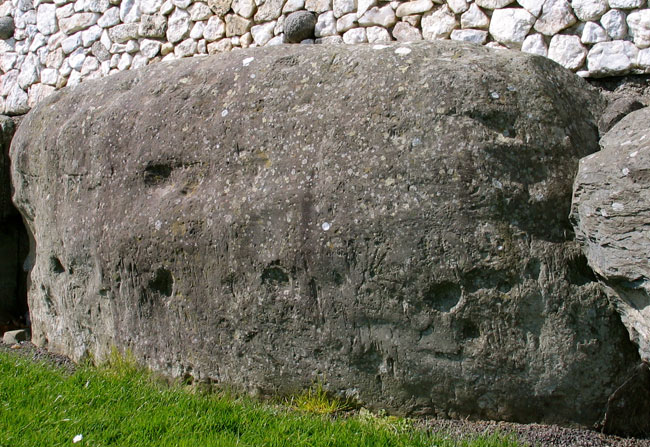 It seems that the primary stage of use by the builders of Newgrange may not have lasted very long, though it continued to be remembered and venerated long after the neolithic as Roman coins attest. Several of the kerbs fell outwards when the mound collapsed.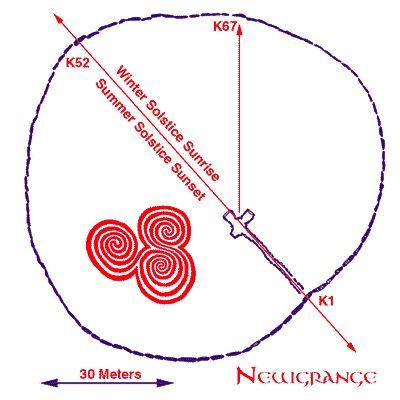 Collecting and dragging the kerbs to the site was surely a mammoth task. The stones were probably dragged on rollers or on a rough sled, and would have required large, well organised work gangs, well equipped with ropes and logs.