The east passage and chamber at Knowth.
The huge cruciform east chamber at Knowth is the largest in Ireland, with its capstone placed some 7 meters above the floor, crowning a complex corbelled ceiling. From the entrance kerbstone to the inner endstone, the monument measures 40 meters, making it the longest megalithic passage in Europe. It is twice the length of the passage at Newgrange. The orthostats (passage stones) and roofslabs are decorated with a variety of angular and curve-linear motifs, many of which echo the patterns on the entrance stone, below.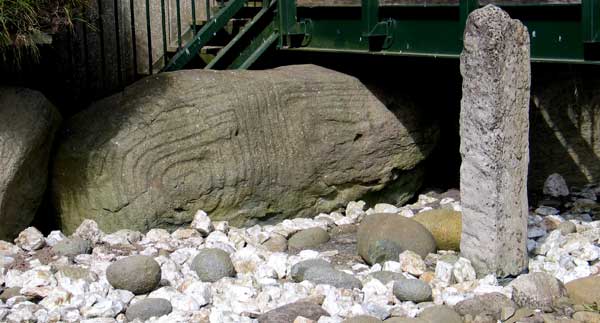 During excavations it was found that the first few meters of the passage had been destroyed by Iron age ditch digging. The entrance is now sealed off by a slab of concrete, and you enter the mound by crossing a metal bridge and through a door on the left. The engraved entrance stone has a vertical groove, slimiar to the Newgrange entrance stone. The small limestone pillar stone, egg shaped 'exotic' stones, chunks of quartz and a circular setting are spread out before the entrance.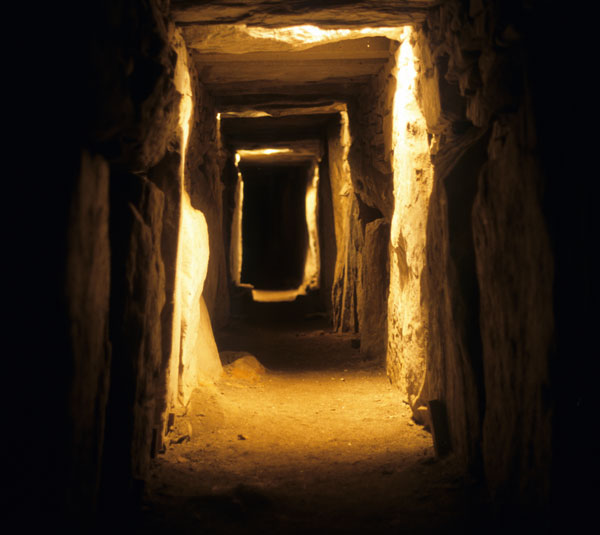 The long passage leads straight into the mound, with some wonderful carvings on the walls and roof. At one stage, about two thirds of the way along the passage is what seems to be another entrance, possibly from an earlier phase of the monument. There is a cluster of decorated stones on both sides of the passage and a roofstone is elaborately carved with zig zags. This position certainly marks some kind of boundary within the passage.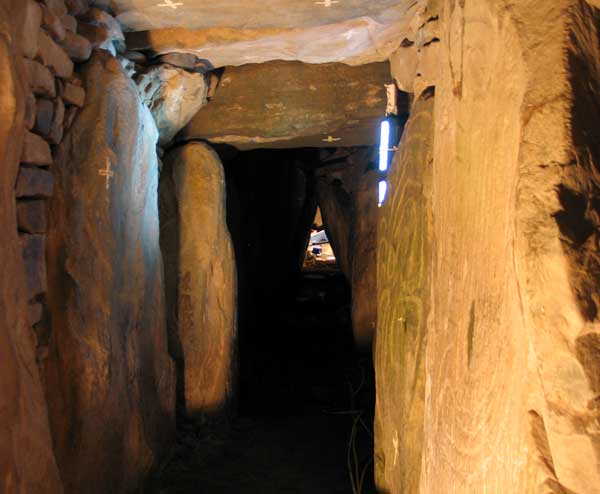 From here, you have to get on your hands and knees to enter the massive chamber. Unfortunately there is no public access - the last 5 or 6 meters involves crawling through a narrow gap where the orthostats have leaned in. To fix this and straighten the passage stones would have involved dismanteling the corbelling, which was rightly thought to be a bad idea.