Dowth South
The large kerbstone K1, above, marks the entrance to the chamber of Dowth South. Although this entrance stone has fallen forwards, an engraved spiral and cupmark can be seen carved into it. There is no public access to this chamber in general. However it is usually open for the winter solstice sunset, when crowds who have gathered for the sunrise at Newgrange often come to Dowth to witness the sunset.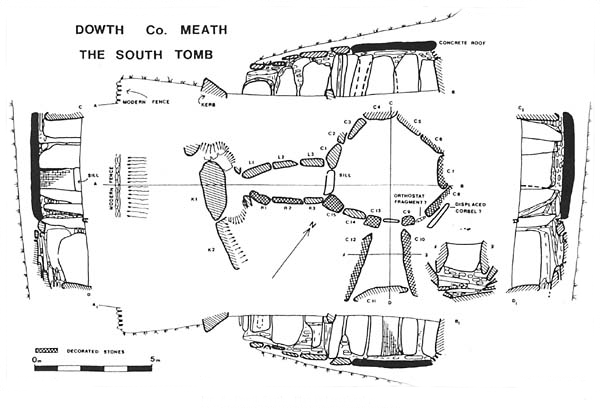 A passage 4 meters long constructed with three orthostats on each side opens into a round chamber, about 5 meters in diameter. A sill stone divides the passage from the chamber. There are eleven stones forming the round chamber and an empty space where there may have been a twelfth. The structure was originaly roofed with a massive corbelled beehive vault which had collapsed in antiquity; this was dismantled and replaced with a concrete ceiling.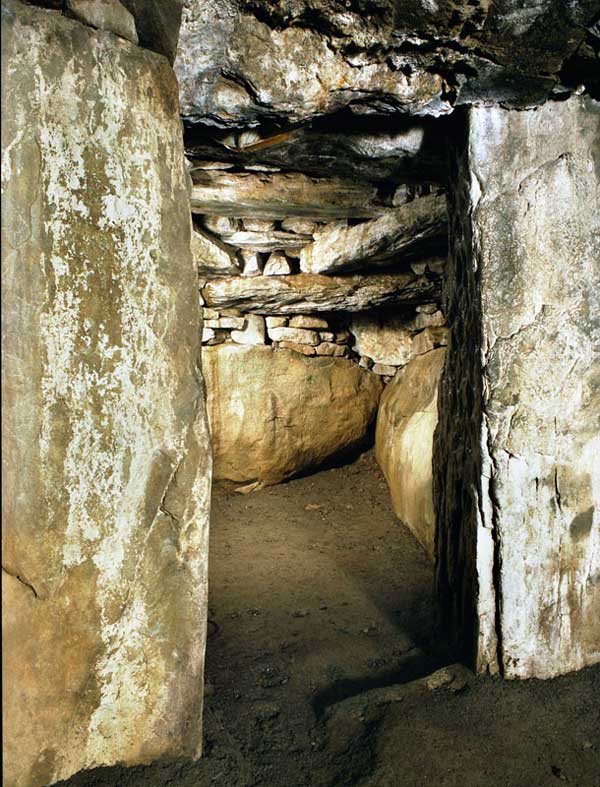 This circular chamber has an unusual plan when compared to other Irish megalithic monuments: there is only one recess, formed from three massive slabs on the south or right-hand side of the space. The construction is on a monumental scale: the photo above shows the massive corbelling in the recess.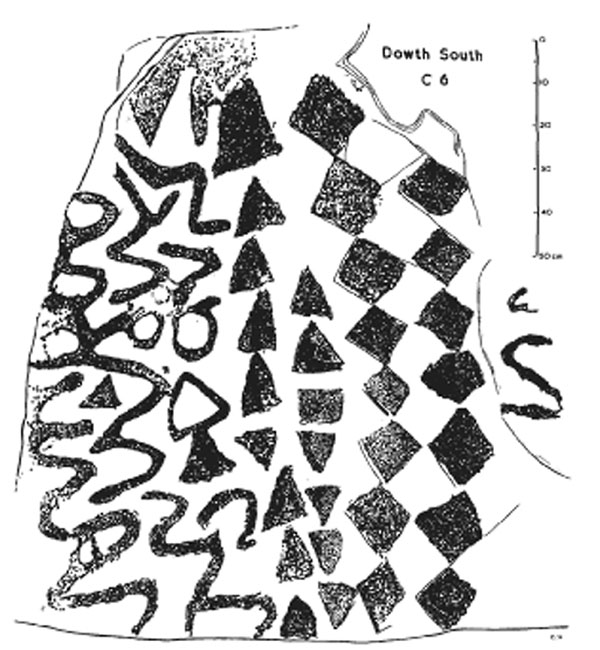 The orientation of the chamber is directed towards the winter solstice sunset. A broad beam of sunlight enters the passage at 4.15 pm, sweeps across the floor and illuminates the decorated stone at the back of the chamber. This stone is carved with an array of diamonds, lozanges and zig-zags. The reflected light seeps the recess to the right.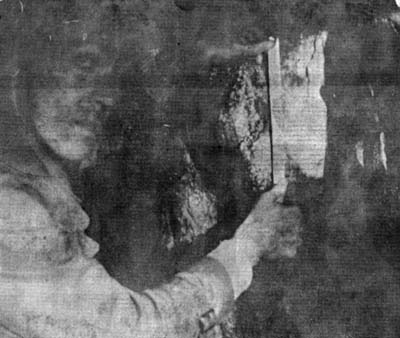 American researcher and archaeoastronomer Martin Brennan concluded that the mounds in the Boyne Valley were linked in an annual cycle of ritual astronomical observations. He found that the suns rays entered several of the mounds on the winter solstice, beginning with Newgrange and ending with this chamber in Dowth South.
There are several small engravings in the right recess which are similar to and probably derived from the sun wheels and rayed circles of Loughcrew