The Roofbox and the Winter Solstice
The best known feature of Newgrange today is the orientation of the passage and chamber to the winter solstice sunrise, using a special feature nowadays called a Roofbox. The alignment was noted by the astronomer Locklear in 1909, and the symbolism of the rising sun was used as an image in the poetry of the mystical writer A. E. or George Russell.
The phenomenon was first recorded in modern times by excavator Michael O' Kelly in 1967. The O'Kelly's had heard many reports of the sun lighting up the chamber at midsummer, but upon investigation was found to be midwinter sun rise.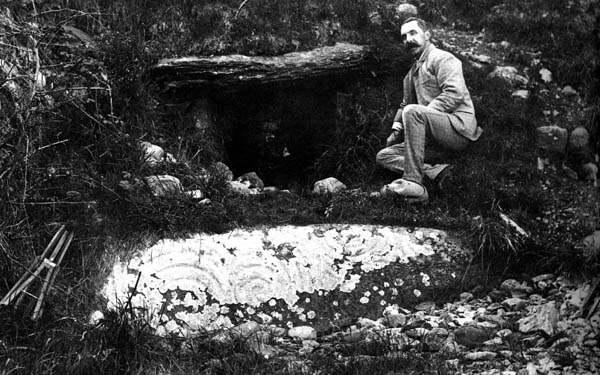 The entrance faces south-east and as the sun rises over the days around December 21st, its rays enter the specially contrived roof-box structure over the door and penetrate 20 meters into the mound to illuminate the chamber. The only other roof box currently known is at Cairn G, Carrowkeel in Co. Sligo, which was probably built two or three hundred years before Newgrange.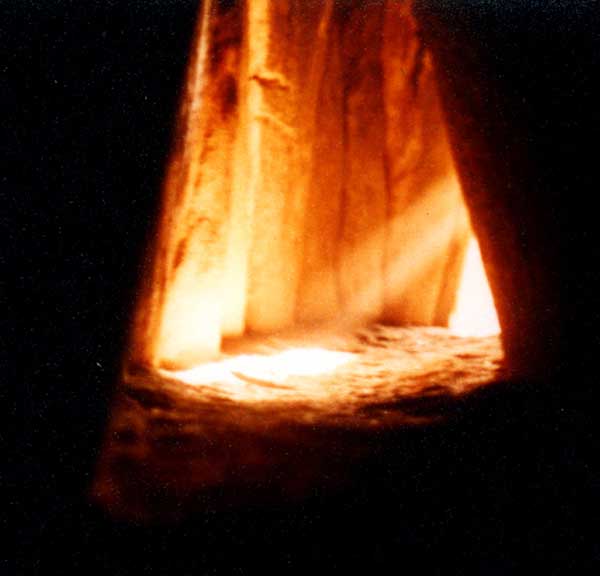 The Newgrange roof box is a sophisticated structure which took a great deal of planning and engineering. Since the passage slopes gently up hill, the floor of the chamber is at the same level as the roof box. It allows the sun to enter for a maximum of 22 days over the winter solstice, or about 11 days on either side of the solstice proper.