Description of the Carrowkeel cairns.
The structures described in this report are situated on an area comprising part of seven townlands, called respectively Tully ("mound"), Trian Scrabbagh ("rugged third"), Ceathramhadh Caol ("narrow quarter"), Mullach Fearna ("summit of the alder," also, and I suspect more correctly, called Mullach Borna, "summit of barley"), Dun na bhFioradh ("fortress of the ridges"), and the East and West Carraig na hEorna ("rock of the barley"). The Anglicized spelling of these simple words is of the usual ugly and cumbrous appearance: both forms will be found marked on the map.
This map has been designed and drawn in a form meant to show as clearly as possible, to a reader unfamiliar with the ground, its remarkable character. The summits are left white, the long, straight valleys being deeply shaded. The precipitous walls of rock which line the valleys for the greater part of their length are marked by specially shaded lines which are easily distinguished.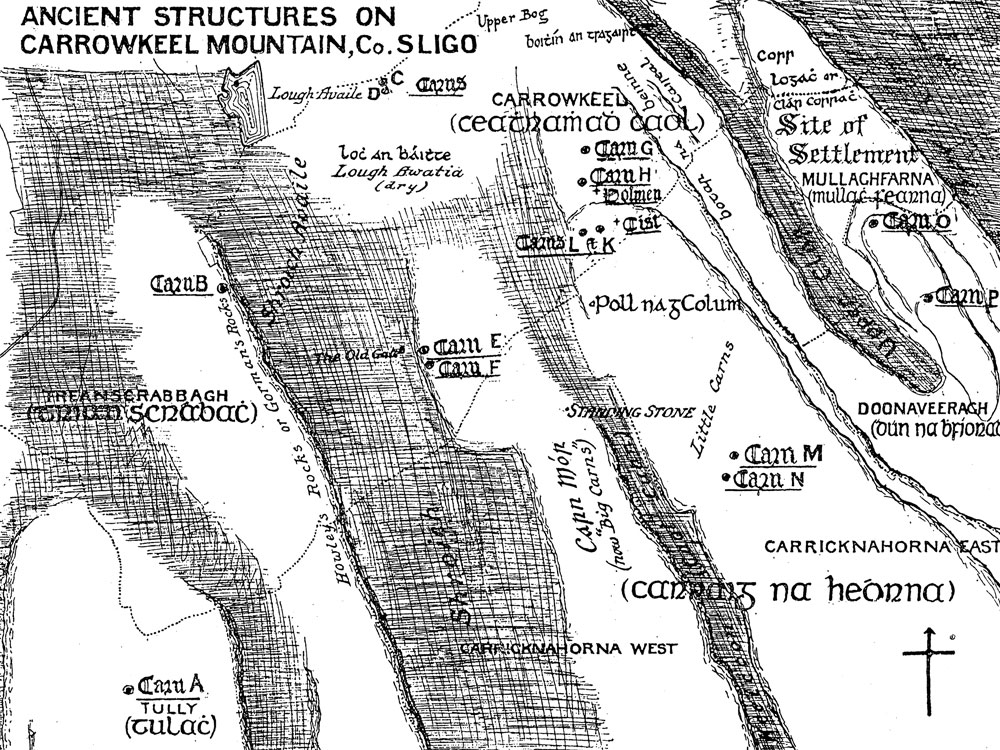 Each of the ridges and the valleys between them have names. The name of the furthest ridge, on which Carn A stands, we did not obtain, nor yet that of the valley which runs to the east of it.
The next is called Howley's Rocks, from a former owner, though it is now being named Gorman's Rocks, after its present proprietor. This phenomenon of the change of a geographical name with a change of owner is known to occur elsewhere in Ireland.
The wide valley to the east of Gorman's Rocks is called "Shroich," which is a name we cannot explain with any certainty. At the lower end of this valley is a tarn in the bog, known as "Lough Availe." Possibly this is meant for Loch Aidhbhil, the "vast" or 'terrible" loch, a name wholly unsuitable for this quiet little sheet of water, notwithstanding a "water-horse" traditionally said to haunt its depths. Round this lake the valley assumes the name of "Shroich Availe."
A boulder in the bottom of the valley, quite natural, is called " the old gate by the local people. The next ridge, on which stands the important carns E and F, is still called Carn Mor (carn being here always pronounced corran); but in English, which is usurping the place of Irish in this place-name, it is called "Big Carns," in the plural.
The next ridge, on which the smaller carns stand, is always called "Little Carns," the Irish name being lost. Between these two ridges is a long, narrow, and cliff-walled valley, called "Keeleoon," that is Cadi Cuan, "the narrow inlet" a very suitable name.