Panorama from Carrowkeel
From Cairn K the views are truly majestic with a 360° panorama over a large tract of Connaught. Beginning in the north we can see Knocknarea, with Maeve's Cairn clearly visible on the flat summit, Benbulben, Kings Mountain and the Glens of Leitrim. Knocknarea is ringed by the chain of the Ox Mountains and on Slieve Da Eán the bumps of three of the four cairns can be made out, with two more atop the peaks of Doomore and Croghan. The Ox Mountains form the southern chain about the great centre at Carrowmore, the remains of one of the largest ancient sites in Europe.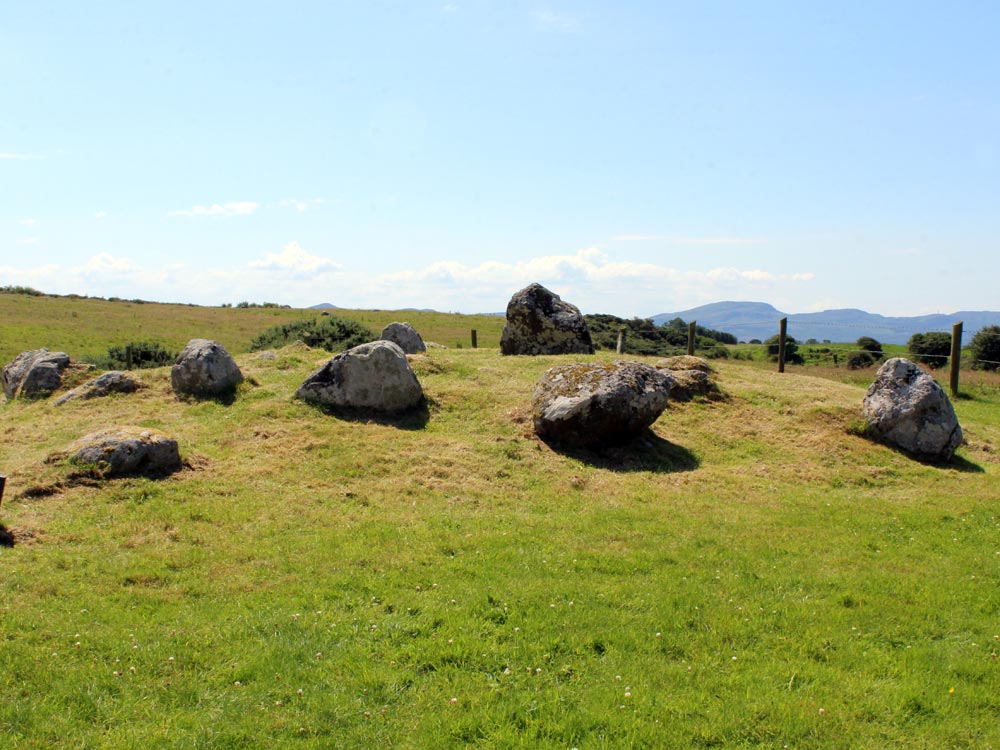 To the east is Lough Arrow, the magical lake with Heapstown Cairn just visible among the trees at its northern end. Beyond the lake lies Moytura with its cairn, Shee Lugh on the highest point. This is the legendary site of the Second Battle of Moytura where the magikal race of the Tuatha Dé Danann fought the demonic tribes of the Formor for the possession of Ireland. Beyond Moytura lie the Arigna Mountains, and farther again lies Sliabh an Iariann, the Iron Mountain, one of the places where the Tuatha Dé Danann are reputed to have landed in Ireland.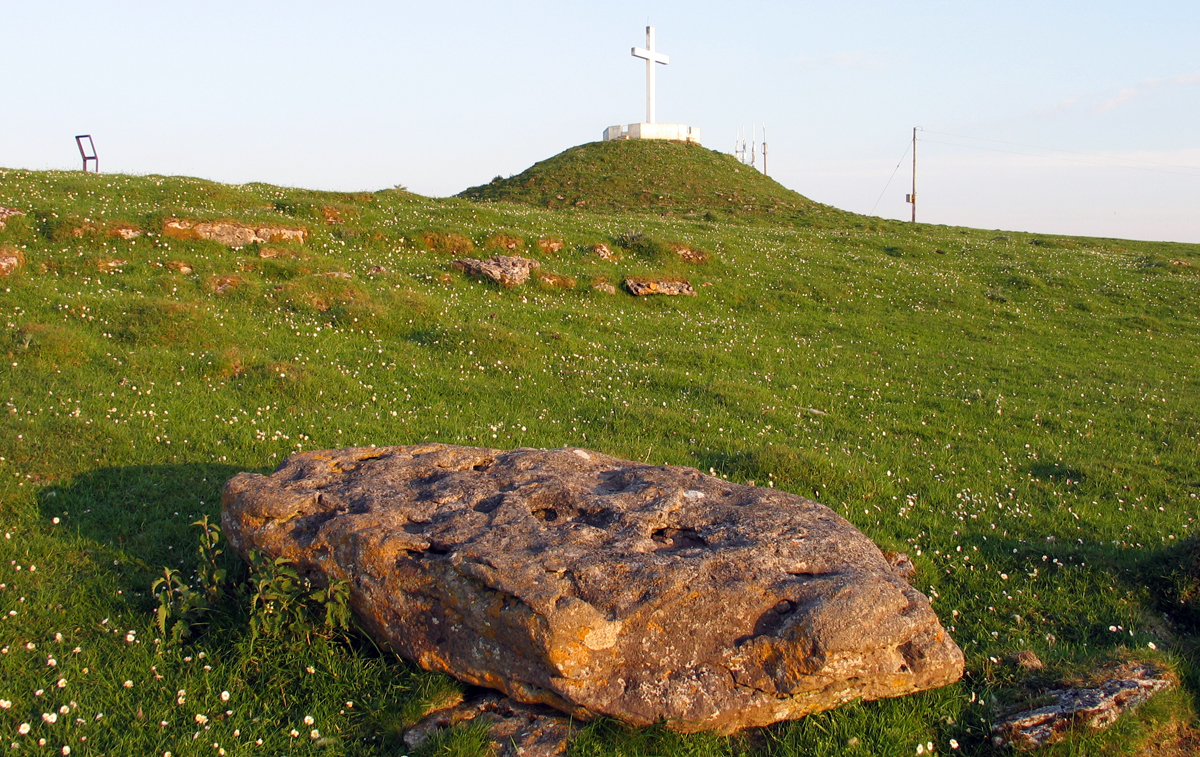 Southeast you can see Sheemore, an amazing tabletop mountain with three cairns on its summit, the central one crowned with a modern Christian crucifix. A line drawn from Kesh Cairn crosses Treanmore Cairn, Treanmacmurtagh Cairn through Cairns E, K and Cairn P in Carrowkeel, and extends towards the central cairn of Sheemore, another example of the larger alignments that link cairns and monuments across the country. Then, moving clockwise across Lough Key you can see Corn Hill (or Cairns Hill) in Longford, with two cairns and a radio mast on its summit.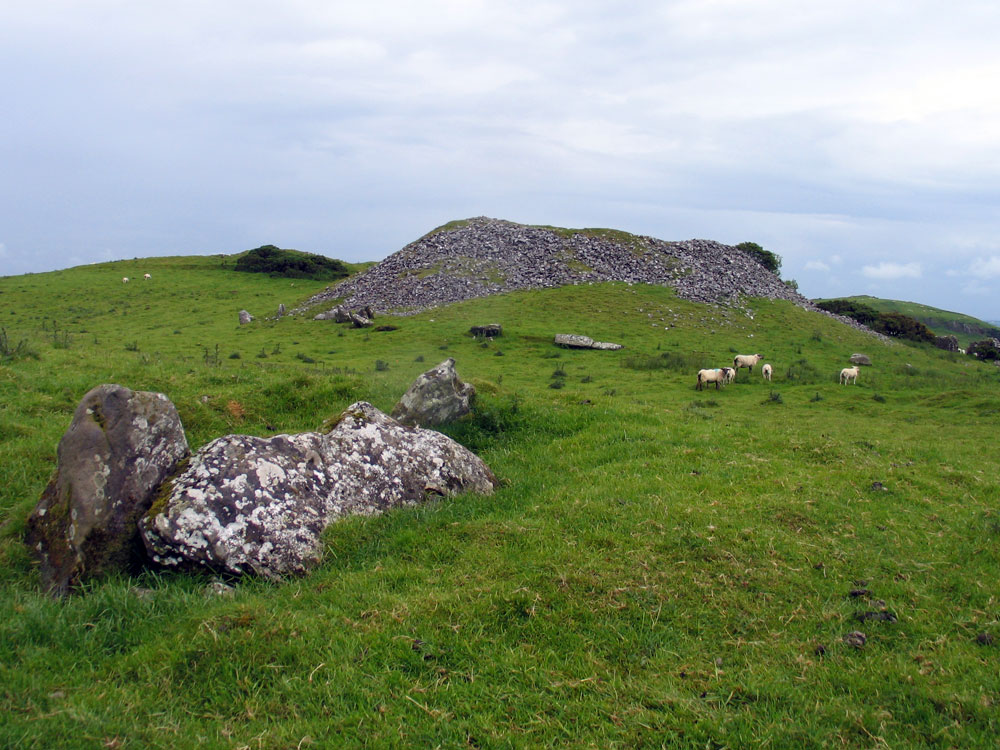 Seventy-five kilometers from Carrowkeel, beyond Corn Hill, is the next great megalithic centre, Loughcrew. A fallen 2 metre quartz pillar has been discovered on the highest and most westerly part of Loughcrew, which would have been visible from Carrowkeel at sunset as the suns rays lit it up.
To the south lie the Curlew Mountains meaning Rough Mountains, which separate Sligo from Roscommon, and Southwest is Lough Gara and the plains of Roscommon, where Cruchan Ai lies, the capital of Ancient Connaught. Then on clear days, the Mweelrea range in south Mayo are visible, down as far as Lough Corrib and the plains of Galway, where Fionnavar's mountain Sidhe Knockma and Moytura Conga are found.
Out to the West are Nephin Mountain and Croagh Patrick beyond which lies the wide Atlantic ocean. Indeed, the sun sets behind Croagh Patrick on the Samhain/Imbolc cross-quarterdays when viewed from Cairn K.