Doonaveeragh Neolithic village
The plateau of Doonaveeragh is best appreciated from the edge of the east shelf at Carrowkeel. The easiest route to Doonaveeragh is to follow the road down towards Lough Arrow from the top car park at Carrowkeel, then head south from the deserted farm, known locally as Joker Healy's, across the fields and up onto the plateau.
This land is privately owned, so if you see the owner, ask for permission; he is often up on the mountain herding his sheep. A large ringfort near Joker Healy's is the north point of Poynder's Carrowkeel energy star.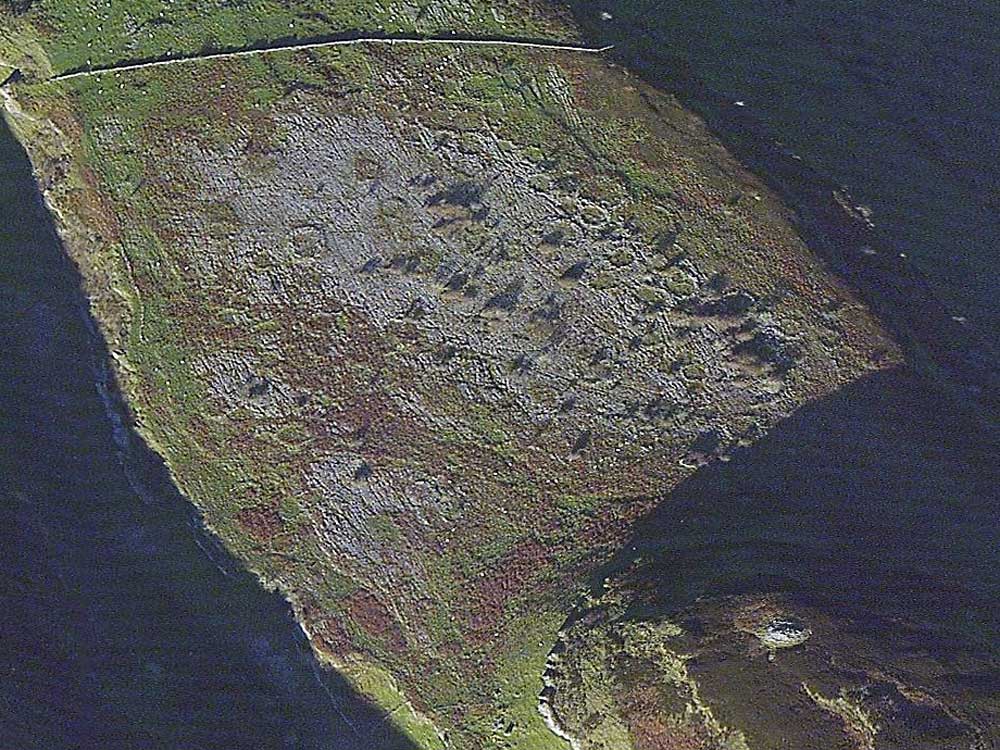 The narrow valley between Carrowkeel and Doonaveeragh, the Narrow Quarter, is an amazing geological formation. There are many cultivation ridges between the cliffs and I imagine it made a fine natural cattle pen during medieval times. There is a stone cottage at the prow of Doonaveeragh.
Some of these cottages were occupied up until the 1950s. There is a rough path with chunky limestone steps at the north tip of the plateau which will bring you onto the level plateau called Mullaghafarna.
From there head south, following sheep trails out of the heather and across a stone wall, and you enter the village site.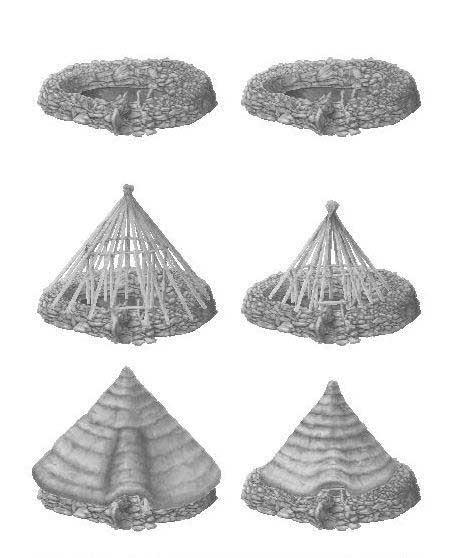 The village is at the same altitude as the ridge of Moytura across the lake, about 226 meters above sea level, and has marvellous views to the north and east. The western aspect is blocked by the ridge of Carrowkeel.
On the cracked and gullied limestone field, so similar to the Burren, are the remains of up to 180 huts, which consist of stone rings like small cashels ranging in diameter from 7 to 15 meters. These are the foundations of huts that would have had low stone walls, probably roofed with thatch onto a framework of saplings around a central pole. The largest of the circles are on the east side, overlooking the lake below.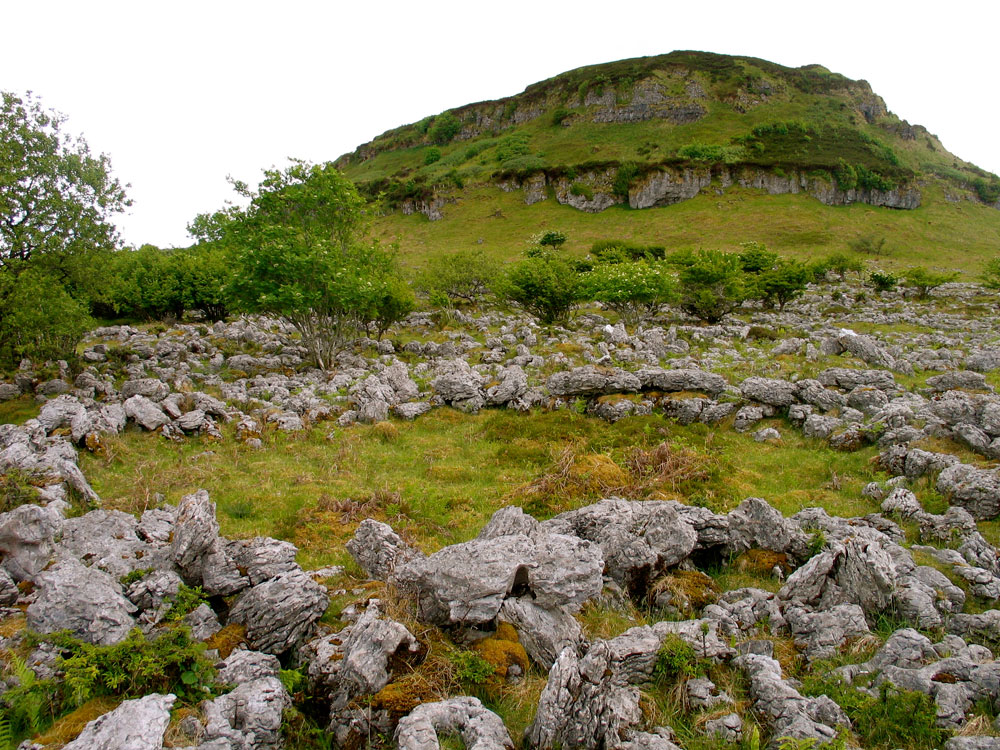 There are a few other possible prehistoric villages currently known, one on Knocknashee near Tubbercurry, aother on Turlough Mountain beside Sliabhcarran in the Burren.
Some twenty seven hut foundations were discovered above the south cliffs of Knocknarea by archaeologist Stefan Bergh. Dr. Bergh proceeded to do a trial excavation on three of the Doonaveeragh sites in 2003, finding sheep teeth, hazel nuts, and a flint knife.
A different route back up to Carrowkeel is to follow the line of the stone wall back across the valley. Walk straight towards the cliff and you will find a large natural fault which provides easy access up through the cliff to the valley above.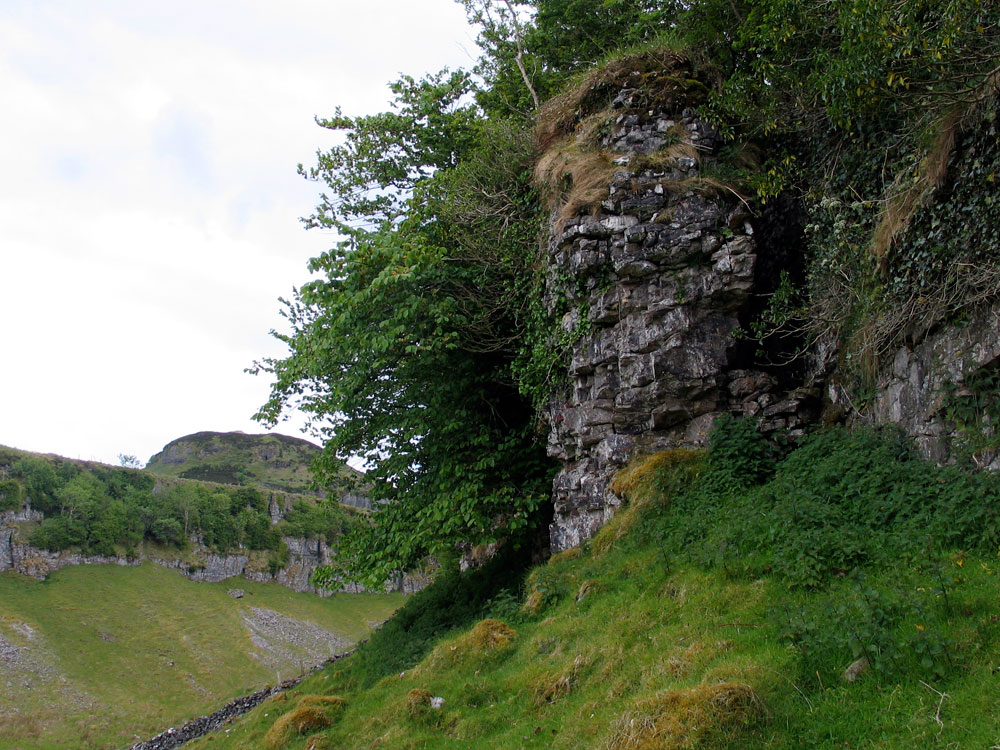 This gap is called the Priest's Stairs, it was used as an escape route by a local priest during the Penal Times. In 1911 Macalister was shown a small mound of stones within the gap, locally known as the Priests Grave.