Early reports - Borlase
LXIII. No. 51. Situated E. of LXII, and out in the N.E, portion of the oval area surrounded by the chain of circles (cairn, with covered dolmen), called Listoghil.
"This is the most important monument of the entire series, and evidently, both from its magnitude and central situation, marks the sepulchre of the most distinguished person entombed in this great cemetery. In its present state of dilapidation it is impossible to describe its original proportions with certainty, but enough remains to enable us to approximate to the truth. In some respects, indeed, its partial destruction, by exposing its interior, has furnished facts which could not otherwise have been acquired.
The situation is more elevated than that of any of the monuments by which it is surrounded, and its circumference is considerably greater, the diameter being about 150 feet. Like many of the other monuments, it consisted originally of two concentric circles with a cromleac, or kist-vaen in the centre, but the space enclosed by the outer circle was covered by a cairn, or heap of stones, originally, it is probable, not less than 40 or 50 feet in height.
The cairn having been used as a quarry for many years past by the neighbouring inhabitants has diminished its altitude so much as to expose the tomb within it. It (the tomb) is composed of stones of great magnitude, and built with an unusual degree of regularity of form. The covering stone is 10 feet square, and 2 feet thick, and, unlike those in all the other tombs, is not of granite but of limestone, and so also are some of its supporters.
The persons who first opened it assert that they found nothing within it but burnt wood and human bones. The half-calcined bones of horses and other animals were, and still are, found in the cairn in great quantity. The stones which formed the outer circle were of large size, but most of them have been carried away, and we can only form now a conjecture as to their number, which, allowing a breadth of 3 feet to each, would be one hundred and fifty." - Petrie.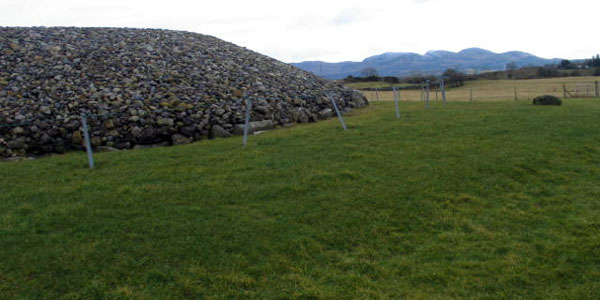 "This cairn is in view both of the cairn on the summit of Knocknarea, and of the two situated on Carns Hill, overlooking Lough Gill..... Eighteen stones remain of the inner circle, and only four of the outer circle. Appearances point to the probability of the cairn not having covered more than the space marked out by the inner circle. The stones in the chamber are set in position with an unusual degree of regularity, the crevices being carefully 'spalled,' or filled in. The clay in the interior was carefully turned out and sifted.