Burials at Carrowmore
The monuments at Carrowmore were built mainly as containers for human remains. The excavated monuments showed evidence of cremated bone, despite the depredations of Roger Walker; all the early reports of digs at Carrowmore refer to burials.
The cremated remains were generally found buried in the chambers, and were mixed with quantities of animal bone and seashells. Many of the finds from Carrowmore—pottery, deer antler pins and pendants—are heat damaged, and so must have been included in the cremation pyres.
In the chamber of Carrowmore 3, more than 32 kg of cremated bone is recorded as having been found during the various excavations, which may represent up to 50 individuals. Two small secondary cists (small stone chambers) outside the main chamber show that the chamber was never covered by a cairn.
Carrowmore 7 had lots of cremated remains, both within and outside the chamber. Much of the remains were scattered about in secondary positions after the rummagings of Walker and Wood-Martin.
Circle 26, excavated in 1978, proved to have very few neolithic remains, having been re-used in the Bronze and Iron age. About 1.5 kg of cerials (barley, rye and oats) were found, and have been dated to 530 BC. A young woman aged around 20 was buried along with a foetus around 90 AD.
Burenhult, the leader of the excavation team suggested that the individual monuments may have been used by different families, much the same way that a family will take a plot or communal grave in a cemetary today.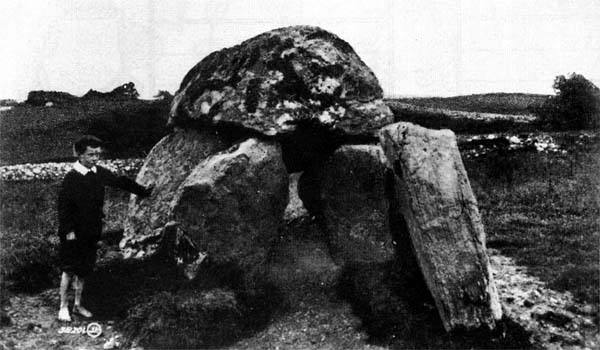 The reports taken from Borlase's Dolmens of Ireland, which lists the finds from Wood-Martin's excavations, are given on individual pages. The remains from Carrowmore, along with the finds, are kept in the National museum, Kildare St, Dublin.