Poulawack cairn
The Poulawack Cairn, was excavated in the summer of 1934 by the Harvard Archaeological Mission, and has proved to be a very interesting site. The Harvard Mission, which was led by Hugh Hencken O'Neill, excavated 15 Irish monuments in the mid 1930's and were the first scientific excavations in Ireland.
Poulawack is a round cairn of quarried limestone measureing 21 meters in diameter, located on a slight rise just west of Carran village right in the middle of the Burren, and is highly visible from the surrounding landscape. It may be a the center of a complex of ritual monuments stretching from Poulnabrone to the north to the dolmen at Kilnaboy to the south.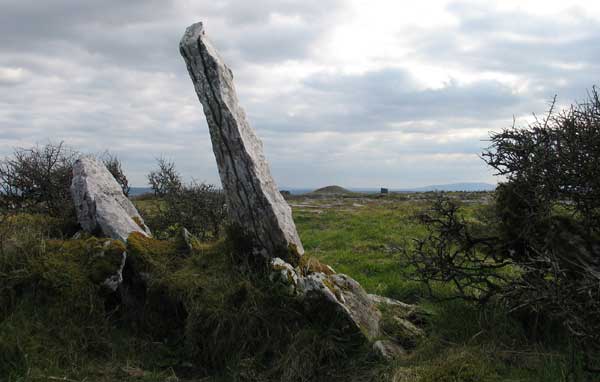 Hencken thought the site dated to the Bronze Age; he discovered 16 burials in 10 cists within the cairn, including a central cist built of inwardly leaning slabs. This inner cist has been classed as a Linkardstown Cist, a relatively new type of monument in Ireland, which were not known in Hencken's time. The burials have since been re_calibrated, and it turns out that the initial phases of the monument date from about 3,300 BC, around the same time as Newgrange was constructed.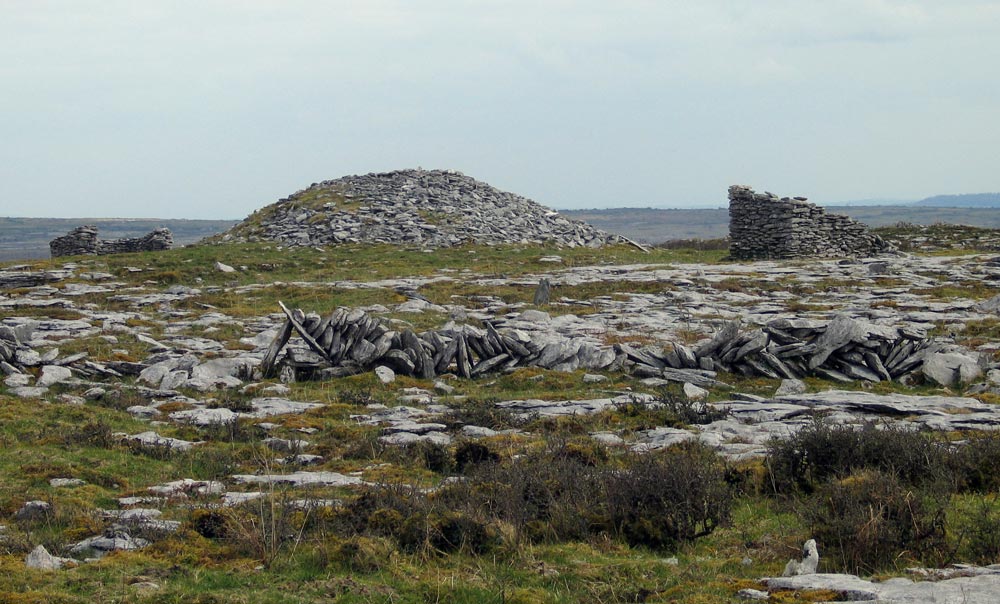 The site was reused several times, and it's period of use stretches up to about 1,500 BC. It may have been used in later medieval times as an inauguration mound.
There is no obvious pathway up to the cairn; I parked by a gate where there were some donkeys and hopped across a few shaky walls to reach the monument. The cairn is located on the cracked karst pavement, and is surrounded by medieval field walls and enclosures. There are two modern drystone structures, like unfinished sheds, close to the cairn.