Sacred Sites of Ireland - the Sacred Island website
This website is dedicated to the Sacred Sites of Ireland, many dating from 6,000 years ago when a complex of megalithic temples were erected on key points in the landscape. The site is an expression of my fascination with ancient chambers and monuments, and especially engraved neolithic art, the oldest writing in Ireland.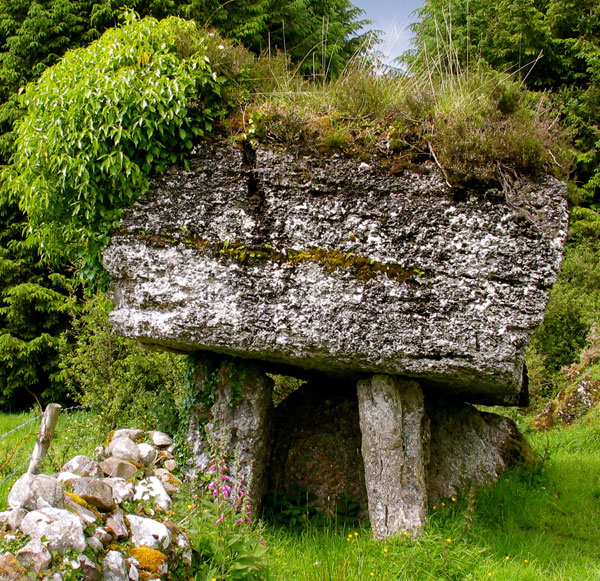 The gigantic Labby Rock on Moytura.
I spent 10 years living on the edge of the Carrowkeel neolithic complex in County Sligo, numerous monuments and an ancient village site with 140 house sites, in a marvellous landscape perched on the ridges above Lough Arrow. I became a tour guide by my 10 year association with the cairns at Carrowkeel; visitors used to call to the Donkey Sanctuary with questions about the cairns up the hill in Carrowkeel, and get passed over to me.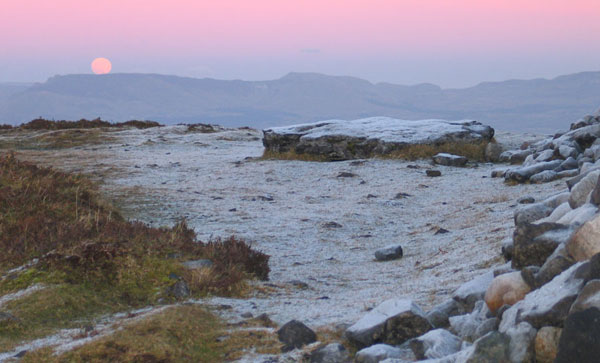 Full moon rise viewed from Queen Maeve's cairnin County Sligo in early January 2010.
Now I live close to Creevykeel, the great central court cairn near Cliffoney in north County Sligo, close to the village of Mullaghmore, right on the Wild Atlantic Way. Most of the roads, buildings, schools, the great harbour in Mullaghmore, and Classiebawn Castle were constructed by Lord Henry Mount Temple, Viscount Palmerston, the British 'potato peer' Landlord, who owned a huge portion of north Sligo. Lord Palmerston was twice prime minister of Great Britian and was one of the leading politicians of the Victorian era.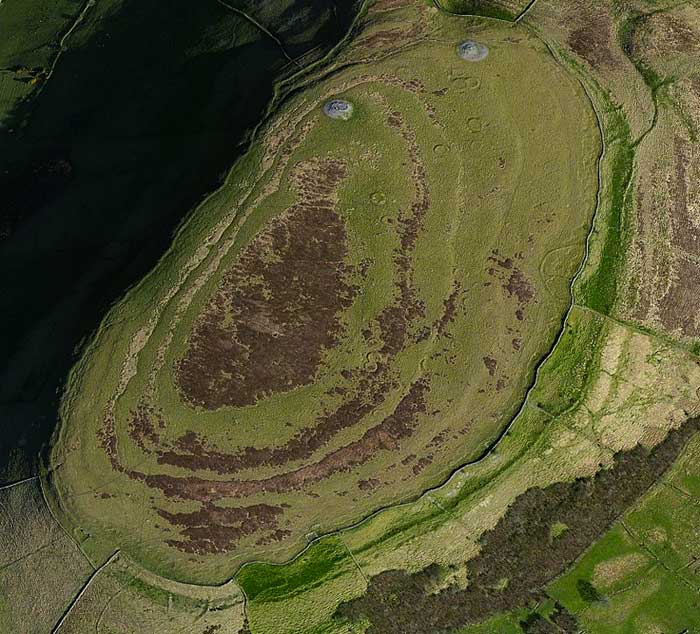 Knocknashee, Co Sligo - the Hill of the Fairies. Image from Bing.
Special attention is given to the monuments of County Sligo where I live, especially the great sites of Knocknarea, Carrowmore, Carrowkeel, Moytura and Kesh Corran, as well as many lesser known sites around the county. Places I know well, such as Loughcrew and the Boyne Valley mounds of Newgrange, Knowth and Dowth are covered in detail; early research on sunbeams illuminating ancient art is presented on the Loughcrew pages. A radio documentary about our traditional group the Trad Counsel can be found here.
A 32 minute slideshow of Irish megalithic chambers and cairns, photos by Martin Byrne and Padraig Conway; music - Lament for the Harp by Ann Heymann.
There are many sites in the west of Ireland that are not as well known as they could be, and many are listed here. Most of the photos and text by Martin Byrne.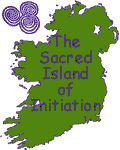 Guided Tours
Irish monuments
Dolmens
Court cairns
wedge-shaped chambers
Chambered cairns
Megalithic art
Map of Irish sites
Map of County Sligo
Map of the Coolera area
Map of Lough Arrow
Map of Carrowkeel
Heapstown cairn
Kesh Cairn
Knocknarea
Queen Maeve's cairn
Cairns Hill
www.creevykeel.com
www.carrowmore.com
Moytura
The Labby Rock
Caves of Kesh
Knocknashee
Neolithic village
Abbeyquarter
Lisnalurg
Classiebawn Castle
Sheemor
Knockma
Cong
Inchagoill
Inishmurray
Croagh Patrick
The Burren
Glencolumbkille
Loughcrew
Equinoxes at Cairn T
Quarter days at Cairn L
Newgrange
Winter Solstice
Knowth
East chamber
West chamber
Dowth
Tara
Fourknocks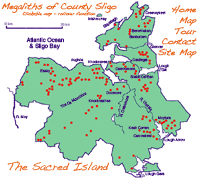 A day spent with Martin is a day that will be remembered.
If you have an appreciation of history and archaeology, beautiful landscapes and music, stories of the old days and the language of stones, then a day spent with Martin Byrne as your guide will surely rank as a high point, and one your most interesting days. We spent a fine day tootling around the countryside, ducking down little lanes and being shown marvelous things we never would have found on our own, and all the while entertained with stories and comments, drawn equally from ancient history or just a few years back. From court cairns to caves, portal tombs to standing stones, Martin was a perfect guide for us - very knowledgeable yet easy going, his deep familiarity with, and obvious care for, the historic sites nicely seasoned with wit.
We were lucky to have found him as our guide, and I would go back in a shot to spend another such day.
Rachel Kane, Vermont, USA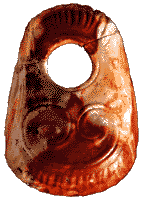 Of all European lands I venture to say that Ireland is the most mystical, and, in the eyes of true Irishmen, as much the Magic Island of Gods and Initiates now as it was when the Sacred Fires flashed from its purple, heather-covered mountain-tops and mysterious round towers, and the Greater Mysteries drew to its hallowed shrines neophytes from the West as well as from the East, from India and Egypt as well as from Atlantis; and Erin's mystic-seeing sons still watch and wait for the relighting of the Fires and the restoration of the old Druidic Mysteries. Herein I but imperfectly echo the mystic message Ireland's seers gave me, a pilgrim to their Sacred Isle. And until this mystic message is interpreted, men cannot discover the secret of Gaelic myth and song in olden or in modern times, they cannot drink at the ever-flowing fountain of Gaelic genius, the perennial source of inspiration which lies behind the new revival of literature and art in Ireland, nor understand the seeming reality of the fairy races.
W. Y Evans Wentz, The Fairy Faith in Celtic Countries, 1911.